Service-Learning Toolkit for Voting and Civic Participation
Keywords:
Civic Responsibility/Virtue
Core Democratic Values
Democracy
Representative Democracy
Service Project
Service Learning
Service Plan
Service-Learning Project Ideas Related to Citizenship and Democracy: This list of service project ideas and resources are designed to spark ideas for actions related to raising awareness of the relationship between citizens and their government. These lessons and projects teach students about their responsibility and the tools of civic participation.
Lesson Plans
The best service-learning projects are related to classroom instruction, involve student voice and choice, address a researched need, and work with local resources.
Teach Learning to Give lessons to connect service with academic subjects and build philanthropy knowledge and skills. These lesson plans teach about the issues, why we should care and act, and the skills and knowledge of social good, such as writing, advocacy, history, fundraising, and careers.
Civic Participation Lesson Plans
Types of Service Projects
Student action may be direct, indirect, advocacy, research, or a combination of these.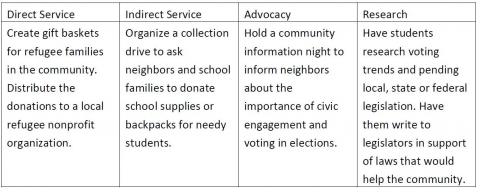 Project Ideas
Design and distribute voting buttons
Have students make logos to encourage voting in the community. They will use these logos to make buttons that they can distribute. They could also research voting statistics and trends to gain a greater understand of how Americans vote. Photo Credit: Vote by Bruce Reyes-Chow is licensed under CC by 4.0
---
Write letters to government officials
Students will choose issues that they are passionate about. They can research nonprofit organizations that are in their issue area and current legislation related to those issues. Students will also research local, state or federal government officials to write them asking for their support on legislation regarding their issues. Schools could also arrange a school visit from a local or state politician or lobbyist.
---
Film PSAs or make brochures
Students could film public service announcement videos or create brochures about the importance of voting and being involved in the community. Teachers could try to work with public television or radio stations to play the PSAs on air. Click here for helpful resources on PSAs.
---
Research pressing community issues
Have students interview community members, politicians, family members, or nonprofit professionals about what they see as the most pressing issues in the community and how youth can help. Have students share their answers and compile their data. After the main, collective issues are determined, choose a couple of service projects that can impact those particular issues. Photo Credit: Governor is interviewed by Gus Prager by Maryland GovPics
---
More Ideas:
Have students research current events related to the refugee crises. Reach out to local organizations that aid refugees. Plan a supply drive.
Volunteer at events that are sponsored by local or state government.
Teach students how the government is responsible for many community services. Tour a police station, fire station, national or state park. Students could volunteer to help with current initiatives.
Students could research what it's like as a day in the life of a president or another governmental official. Students could present to other classes or the school on their findings for President's Day.
Involve students in a petition or local community adovacy efforts. Contact local community activists or nonprofit organizations as resources.


---

Potential Community Partners
​​Find partners in your community who will work with your students on civic-based and voting service projects. Engage the students in investigating the issue and calling the partners. Connecting with a community resource makes the project more meaningful and impactful.
Local politicians/officials

County commissioner
Mayor
City council representatives
Judges
Magistrate

State politicians or their offices

Governor
Attorney General
State commissioners
State representatives
State senators

Activists
Local political party offices
Police officers
Firemen
Nonprofit organizations P
Photo Credit: Day 20 Occupy Wall Street October 5 2011 Shankbone 14 by David Shankbone is licensed under CC by 4.0
Other Resources for Investigation and Communication
This is a list of resources that may expand the learning around the issue area and involve the students in identifying needs and solutions.
This nonprofit provides background information on a variety of issues that interest youth, as well as ideas for taking action to promote resolution for issues. Join with other young people to make a difference.
Go to generationOn.org for a full menu of project plans related to citizenship and civic engagement. See a list of great projects for Kids and for Teens.
Although this New York Times Education article was written in response to the earthquake in Japan in 2011, there are great suggestions for relating the event to civic issues. These critical thinking ideas can be transferred to other classroom-based disaster responses.
This picture book is aimed at elementary-aged children. The book revolves around a presidential campaign for the Cat in the Hat. Youth are able to creatively learn about the democratic process and vote for causes for the Cat to support.
This is an excellent resource to teach students about different functions of the government, how youth can be a part of elections, and a brief history of voting in the United States. The website is interactive and helpful for students learning about civics and voting.
Create simple timelines to share investigations of the history of civic issues such as events in the Civil Rights Movements or the history of women's rights.
​The White House website provides information, inspiration, and resources on a variety of issue areas. The topics of health care, immigration, energy and the environment, and their various policies are explained on this resource. This area of the website provides ways to directly engage on various issues.
This resource supports programs and services focused on youth. The "Youth Topics" tab provides information and resources on issues that affect youth and ways to promote positive outcomes.
---
Bibliography
Education.com. "Campaign Buttons" Education.com, 2016. Web.
Lesson Planet. "Civics Worksheet: People to People Student Ambassdor Programs" Lessonplanet.com, 2016. Web.
TeacherVision. "Voting!" teachervision.com, 2016. Web.