Youth Activities
Ready-to-use activities engage service-oriented youth groups in building a culture of cooperation and service while learning about civic responsibility, problem-solving, board service, philanthropy, leadership, and grant-making. Activities for Faith Groups include Judeo-Christian and Muslim perspectives. Full Table of Contents here and activities in the yellow block below.
24 Film Clips and Discussion Guides
Share brief and engaging video clips in your classroom or youth group and discuss elements of philanthropy and the nonprofit sector. Each activity includes a 2-15 minute video clip, discussion questions, and a follow-up activity. Thanks to Dr. Salvatore Alaimo at GVSU for donating the clips from his feature length film, "What Is Philanthropy?" See the red block below.
Middle and High Schoolers Teach Philanthropy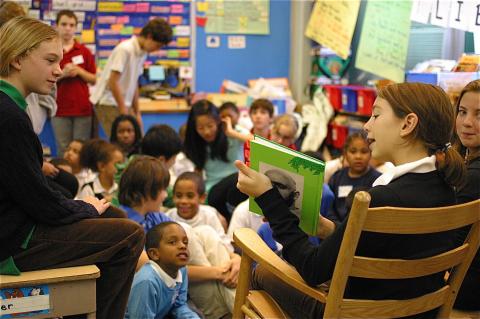 Want to be the spark that gets someone new into service? Young people can share their passion for service and grow diversity for future group participation by teaching a Learning to Give lesson in a local middle school or elementary classroom, Even the youngest children have the time and talent to volunteer and take action that serves the community and addresses a real need, but they may not recognize it until someone gives them their first experience.
Below are two sample lessons adapted for youth to introduce the vocabulary of philanthropy and justice and share their volunteer experience.
Elementary Lesson Teaching Peace Through Literature and Song
Middle School Lesson Justice and Kindness Play a Part
More lessons available at www.learningtogive.org/resources/lessons-units