TeachOne of our four Earth Day lesson plans and follow your teaching with a simple and powerful service project for Earth Day!
Click the lesson title below for the full lesson plan or simply download the 2-page lesson PDF and supporting PowerPoint presentation. Each PowerPoint is equipped with links to videos, images, and content to support your teaching.

Lesson: Students explore bees as pollinators and learn about reasons their population numbers have been declining in recent years. Written by Ms. Wagner, 8th grade science teacher

Project: Students write a letter or create a handout to teach others how to help bees through planting native species.

Lesson: Learn about the types of materials that can be recycled and how to reduce waste in the school lunchroom. Written by Ms. Marshall, science and language arts teacher

Project: Conduct an audit of the school and complete a school wide recycling day.

Lesson: Students learn about the goals of Earth Day and identify areas in town that need clean-up or planting. Written by Mr. Pastrick, 8th grade science teacher

Project: Students plan a day of service.

Lesson: Students learn about the toxic ingredients in personal care products. Written by Ms. Hull, 7th grade science teacher

Project: Students take action to protect local waterways from the effects of the chemicals.
TeachOne to educate, equip, and empower your students!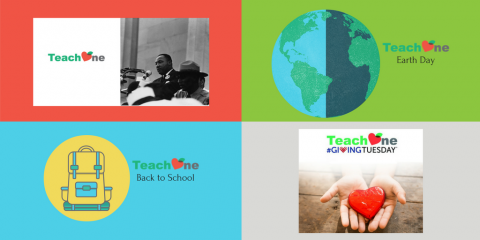 With four TeachOne initiatives throughout the calendar year, Learning to Give makes it easy to infuse giving and community into your plans. Choose from four featured lesson plans for each initiative:
Back to School
GivingTuesday
Martin Luther King, Jr. Day
Earth Day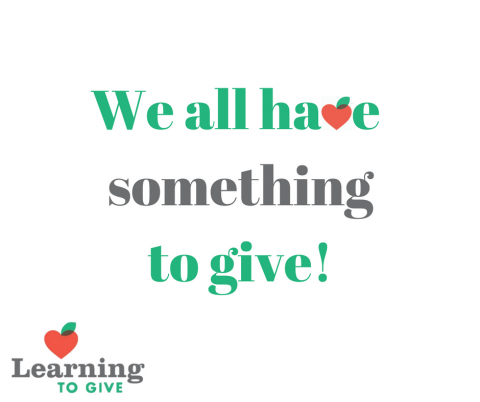 Learning to Give lessons, written by teachers like you, teach the principles of philanthropy and action of service in a meaningful context. Students learn that we ALL have something to give to make the world a better place.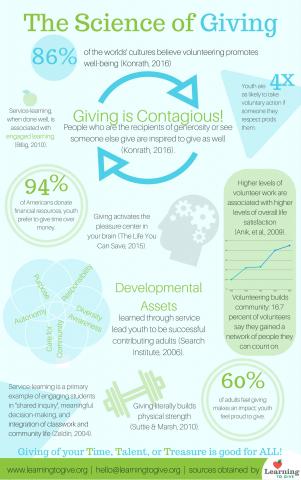 Teaching students to give time, talent, and treasure for the common good helps build stronger students and communities. Giving is contagious!
Connecting with Educators
When you TeachOne, remember to share the lesson and project with your colleages and media. Tell us what you and your students did, and look to Learning to Give to connect you with a similar grade level in another state doing the same lesson and project.