Powerful Words Unite Us in Service on Martin Luther King, Jr. Day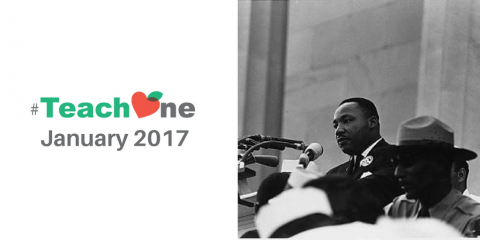 On January 16, 2017, a day of recognition of the equal rights work of Martin Luther King, Jr., let's take his words to heart that challenge us to treat all people equally and find unity with communication and nonviolence.
Everything you Need on One Page:
Teach this lesson plan with variations in any K-12 classroom the week before Martin Luther King, Jr. Day.
On Monday, January 16, your students perform this simple powerful service whether they are in school or off for a day of volunteering.
Reflect on the service when students are back in school on January 17.
Webinar Opportunity: Watch our recorded webinar to learn more about inspiring your students for Martin Luther King, Jr. Day.
Share the project widely, tell us what you did, and we'll try to connect you with a similar grade level in another state doing the same lesson and project.