Philanthropy is found throughout the world, improving communities with essential services and a means for citizen empowerment and engagement. Guide your students through giving and service to feel more ownership in their learning and demonstrate a more giving role in the classroom and community. 
Why Philanthropy Education?
Most schools have a service requirement for graduation, but only a small percentage of schools teach tools and action of philanthropy instruction. Educators report that philanthropy education increases their students' interest and involvement in service. Research confirms this:
"While philanthropy is an altruistic impulse, it is also a learned behavior (Falco et al., 1998; Schervish, 1997). In a recent study, Ottoni-Wilhelm et al. (2014) finds that young people are more likely to give and volunteer if they have been exposed to both conversations about philanthropy and role-modeling of philanthropic behaviors" (IUPUI. p. 9). When teachers expose students to themes of philanthropy in the Learning to Give lessons, evaluations show that their students exhibit more charitable attitudes, beliefs, and behaviors (MSU, 2006).
Download the 2017-18 LTG Calendar for monthly lesson ideas, inspirational quotes, and kindness challenges. 
Through philanthropy education, students learn that not only are they capable of making a difference, but also have a responsibility to stay aware of current issues and participate in civic life to build the common good.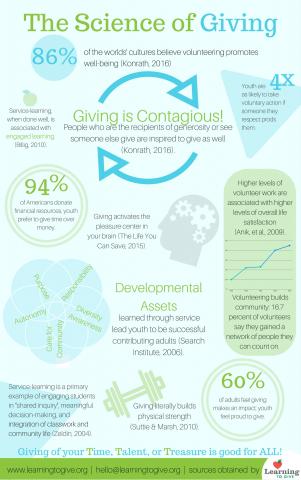 This is what it means to be part of a community. Philanthropy instruction teaches "philanthropy's history, culture, and values," and the vocabulary of philanthropy -- giving time, talent, or treasure for the common good. This prepares students to be innovative and reflective leaders and participatory citizens. It is easy to connect all disciplines to philanthropy, so it's not an add-on.
There couldn't be a better time for teaching students about philanthropy. In our increasingly connected and global society, which is complicated with divisive politics and fear, we must intentionally teach the value of acting for the common good from kindergarten through high school. We can teach traits of constructive dialogue, servant leadership, and civic action. We must share positive examples of philanthropic role models and revolutionary change from our history. Teachers of all disciplines can initiate classroom discussions that center on real-world issues and teach students to ask questions, sift through facts, propose solutions, and take action to make the world a better place.
Student Efficacy and Motivation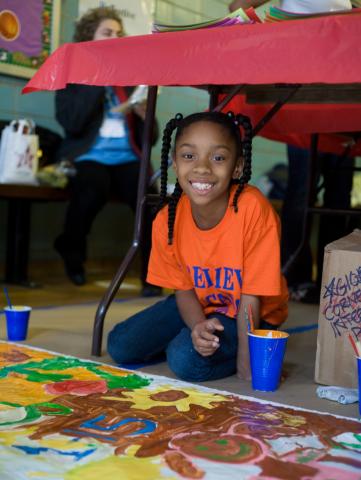 Philanthropy education aligns knowledge and skills with students' innate caring and generosity. The student-centered experiential approach deepens motivation to learn and give through purpose, mastery and autonomy:
Students become aware of needs larger than their own and take action to address them (purpose);
Students are engaged in activities that apply and expand their learning (mastery); and
Students take a role in directing their own learning experience (autonomy).
Philanthropy Education and Service-Learning
Philanthropy education brings to life why and how we give, while service-learning provides a methodology for taking meaningful action. Philanthropy education is infused into all of the stages of service-learning, from investigating issues and needs, analyzing personal and public motivations, learning methods of impact, studying examples from history, and implementing action with reflection and evaluation. 
A Few Examples of Philanthropy in the Classroom
The very skills and community cohesion necessary to offset forces of social disintegration, especially in an increasingly diverse culture, are skills and experiences found in the civil society sector. Yet an understanding of this sector remains a mystery to many American children. View Philanthropy Curriculum Standards.
The youngest students learn to share; give time, talent, and treasure to others; and define community.
Elementary classes become aware of diverse needs and resources and what sectors are responsible for the things they like and want to change about their community.
All students explore the motivations and the relationships involved in setting aside self-interest for the benefit of the community.
History lessons give serious attention to the role of volunteers, such as those who built the first black colleges or the private donors who funded the Salk vaccine for polio.
Civics lessons identify voices and advocates in the civil society sector as the source of new ideas that lead to policy changes. In classrooms, students may develop the skills needed for public discourse and democratic compromise.
The study of economics includes the 13% of the economy represented by the civil society sector. Teachers may address the 20 billion volunteer hours each year, which add value to the economy and promote our common interests.
Career awareness introduces opportunities in the civil society sector, representing about 12.5 million workers in the United States.
YouTube Videos
Learning to Give has a YouTube channel with resources for you and your classroom. There are the following video categories:
Classroom Tools (videos that illustrate the meanning of philanthropy by students and adults; a 60-minute film "The Gift of All" about one community transformed by philanthropy)
Inspirational Shorts (excerpts that tell brief stories of philanthropists)
Interviews (teachers tell about the impact of philanthropy in their lives)
Town Hall Meetings (Michigan teachers and Learning to Give talk about the impact of philanthropy in the classroom)
(IUPUI Lilly Family School of Philanthropy. (2014). Understanding Philanthropy education in Independent K-12 Schools: A Typology.)