Classroom Grants for Service

Help your students plan a project that connects to the community.
Don't let the cost of books, supplies, or travel get in your way.
Start with a
Learning to Give
lesson and inspire student action to address a community need. The
Learning to Give
mini-grants range from $250-$1,000 with a simple, yet competitive application process and
priority given to those who use social media
to share their plans, discuss ideas, and reflect! #LTGMiniGrant #Teach1
Need a bit of inspiration?
How do you connect Learning to Give lessons to service? The sky is the limit!
Learn about kids with special needs and plan a party to make forever friends.

Discuss why people are homeless and create compassion bags to donate.

Gather scientific data at a local river and write letters about water quality to state representatives.

Research the mission and activities of local nonprofits to help determine where the class will volunteer.

Read a picture book about a lonely senior whose life was brightened by an intergenerational friendship and plan reciprocal activities to build friendships at a local retirement community.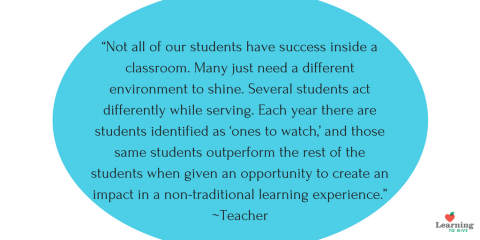 Take your lesson or project to the next level!