Keywords:
Act of Kindness
Diverse Communities
Diversity
Inclusivity
Tolerance
YGFGservice
Youth Advisory Committee
Service-Learning Project Ideas Related to Disability Awareness: This list of service project ideas and resources are designed to spark ideas for discussions and actions related to empathy and awareness of different disabilities, special needs, mental illness, and exceptional people. Photo Credit: Special Olympics 2016 west by Pasco County Schools is licensed under CC by 4.0
Lesson Plans
The best service-learning projects are related to classroom instruction, involve youth voice and choice, address a researched need, and work with local resources.
Teach Learning to Give lessons to connect service with academic subjects and build philanthropy knowledge and skills. These lesson plans teach about the issues, why we should care and act, and the skills and knowledge of social good, such as writing, advocacy, history, fundraising, and careers.
Types of Service Projects
Service action may be direct, indirect, advocacy, research, or a combination of these.
Examples:

Project Ideas
Check out this example of students in action! Read about the service-learning project called Tinker Quilt by Arkansas students who were taught using this Disability Awareness lesson to guide learning and action. Ms. Hightower is a high school teacher from Cedarville, Arkansas. "I value teaching service and philanthropy because I think is important for students to understand and value the needs of others," she said. "It is also important that my students understand that they can have a positive impact on others and their community."
Plan a Playful Party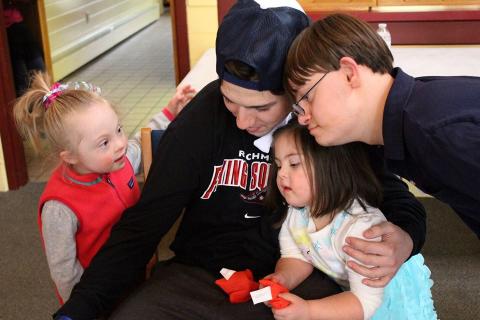 Provide training from an expert in how to work with kids with intellectual and developmental disorders. Then plan and carry out an event filled with games and activities for the children.
Youth learn empathy, improved communication skills for working with children with special needs, and the joy of connection. One youth said, "The training taught me how to connect with the kids. For example, the noise level was too high for one of the girls. I knew what to look for her and help her through the sensory issue."
---
Adaptive Sports Activity
Learn about adaptations needed for different physical and mental disabilities and plan a sports event that raises awareness about needs and includes youth with disabilities. The event may be extended into a fundraiser for adaptive equipment for the school or for a nonprofit that supports people with disabilities
---
Make inclusion a priority
We interact with people of all backgrounds and abilities in our lives. Sometimes at school, kids with disabilities are left out or bullied because we don't understand them or know how to act. Discuss differences, empathy, social skills, and advocacy for including all kids, especially ones who might seem left out or have needs we don't understand. Kids can make a pledge to reach out to others and include them or join them in different ways. Not as a "sad story," but as an opportunity to meet someone new.
---
Anti-bullying campaign
Participants can research best practics for combating bullying of people with disabilities and create a campaign designed to impact youth and community members. They could do programs for other classes, create anti-bullying materials, design PSA videos or brochures, and even write to local and state legislators to try and get them to strengthen laws against cyber-bullying and bullying in general.
---
More Ideas:
---
Potential Community Partners
​​Find partners in your community who will work with youth on projects. Engage the youth in investigating the issue and calling the partners. Connecting with a community resource makes the project more meaningful and impactful.
Easter Seals
Special Olympics
Down Syndrome Foundation
Make a Wish Foundation
Other Resources for Investigation and Communication
This is a list of resources that may expand the learning around the issue area and involve the youth in identifying needs and solutions.
This nonprofit organization provides background information on a variety of issues that interest youth, as well as ideas for taking action to promote resolution for issues and fostering kindness in the community. Join with other young people to make a difference.
GenerationOn provides service-learning resources, including project ideas related to a variety of issues. ​
Random Acts of Kindness focuses on promoting kindness in schools, communities and homes. They have many resources related to kindness including vidoes, quotes, research, and facts about kindness. There are also free lesson plans for educators, kindness ideas and stories to help inspire others. They challenge their supporters to become RAKtivists, Random Acts of Kindness Activists.
BullyingInfo.org is a project of the Interagency Working Group on Youth Programs (IWGYP) focused on providing tools and resources for youth, parents, teachers and mental health providers to prevent and address bullying. There is also information particularly related to cyberbullying.
This video shows how a group of elementary school students befriended a classmate with a disability. The young boy was often teased, but his new group of friends has made him feel included. This is an excellent example of how students can be kind to others that may be a little different.