Environmental Service-Learning Toolkit
Keywords:
Environment
Environmental Stewardship
Service Project
Service Learning
Service Plan
YGFGservice
Youth Advisory Committee
Service-Learning Project Ideas Related to the Environment: This list of service project ideas and resources are designed to spark ideas for actions related to stewardship and the environment.
Lesson Plans
The best service-learning projects are related to classroom instruction, involve youth voice and choice, address a researched need, and work with local resources.
Teach Learning to Give lessons to connect service with academic subjects and build philanthropy knowledge and skills. These lesson plans teach about the issues, why we should care and act, and the skills and knowledge of social good, such as writing, advocacy, history, fundraising, and careers.
Environment-Related Lesson Plans
Types of Service Projects:
Service action may be direct, indirect, advocacy, research, or a combination of these.
Examples:

Project Ideas
Beautify the school grounds or community public areas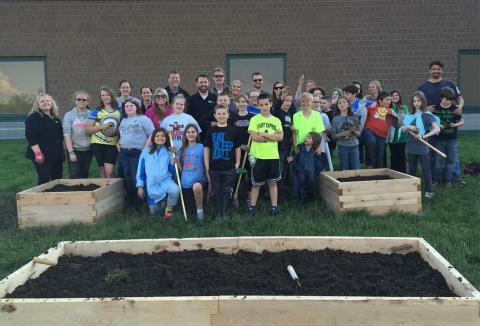 Give new life and purpose to a neglected area. Plant native plants, trees, bushes, or flowers. Weed out invasive species and beautify by weeding, pruning, and raking. Enlist the ownership of youth, families, and the community with special clean-up days organized by youth.
Youth can take ownership of doing research about what is native and invasive in the area. Have them contact organizations to interview the experts and find out what can be done and how to get permission to do the work. If there is no funding for new plants, ask for donations.
---
Adopt a local park
Clean up trash at a park and investigate other ways to freshen the park and increase neighborhood pride. Youth can investigate and learn the differences between city, county, state, and national parks and how they can help. This may include painting, planting flowers, setting up a recycling program, adding playground equipment, organizing a dog park, or adding a sports program for neighborhood kids.
---
Commit to fewer plastic bags
Ask people to make a commitment to use fewer plastic bags. Design, create, and sell reusable cloth bags to discourage use of plastic and paper bags at the grocery store. Work to make local laws prohibiting the use of plastic bags. Photo Credit: Quicky... erm birdy swap *g* - Sent! by Jen Morgan is licensed under CC by 2.0
---
Collect water and soil samples
Take water samples at a local body of water and soil samples on the banks or other land areas. Analyze the data and share it with the appropriate environmental contacts. Then research how they can help to treat pollution.
---
More Ideas:
Research "rooftop gardens" and where they are needed.
Build a bird habitat or house to attract a specific bird species that is threatened.
Perform an energy audit of schools or homes.
Research and plant a community garden.
Set up a recycling system where there isn't one.
Organize a clean-up day at a national or state park.
Create rain barrels to conserve water and prevent run-off.
Send advocacy letters to an organization or government officials promoting environmental stewardship.
Host a local community recycling forum.
Design and sell buttons related to an environmental issue for fundraising and awareness.

---

Planning a Service-Learning Project

This resource provides guidance and questions for each step of the process.

GUIDE TO PLANNING SERVICE-LEARNING

This chart helps youth prepare for who does what in the service-learning process.

CHART FOR PLANNING SERVICE-LEARNING

---

Potential Community Partners
Find partners in your community who will work with youth on environmental projects. Engage youth in investigating the issue and calling the partners. Connecting with a community resource makes the project more meaningful and impactful.
Nature Center
Environmental Action Council
Watershed Council
Parks and Recreation department of your county
Local or National parks
Lakes and rivers
Wetlands
Beaches
Water treatment plant
Habitat for Humanity
The Sierra Club
The Nature Conservancy
Other Resources for Investigation and Communication
This is a list of resources that may expand the learning around the issue area and involve youth in identifying needs and solutions.
Experience EarthEcho Expeditions, an initiative that leverages the rich Cousteau legacy of adventure and discovery to bring science education alive for today's 21st century learners.
Go to generationOn.org for a full menu of project plans related to the environment. See a list of great projects for Kids and for Teens.
By providing a water source at a school and connecting the teaching staff to the project, teachers are encouraged to implement educational programs that teach hygiene and safe water usage. Established and reputable non-governmental organizations, together with the local community plan and implement a WASH project, that provides water, sanitation, and hygiene to the school.
Plant trees or organize a tree giveaway for the community. NWF's Trees for Wildlife program is designed for students of all ages to learn, plant and care for trees. Trees are critical elements for the eco-system and essential for us. Trees provide habitats for wildlife, food, cover and places to raise young.
Roots & Shoots is guided by the founding principles and extraordinary vision of Dr. Jane Goodall, renowned primatologist, environmentalist and humanitarian. Her firm belief that young people can indeed change the world is at the very heart of the program.
Provides detailed lesson plans related to the topics of access to water, sanitation and pollution. Their lesson plans are geared towards 3rd grade through 12th grade students.
Terracycle is a recycling and up-cycling company that educates consumers about environmental awareness and taking action. They work with schools to recycle packaging and repurpose it into new products.​​
This guide is written for teachers and includes both the basics of climate change science and perspectives on teaching a subject that has become socially and politically polarized.
---
Classroom Example
Ms. Hull is a 7th grade teacher from Indiana who says, "I feel if is important for students to understand that they can make a difference in their community and that they can use what we learn in the classroom to accomplish that."
Read about the service-learning project called School Improvement Project by students in Indiana who were taught using this Environmental Service-Learning Toolkit to guide student learning and action.
---
Bibliography
Education.com. "Go Green! 10 Worksheets to Celebrate Earth Day" WFP: Education.com, 2016. Web.
iSLCollective. "445 Free ESL Environment Worksheets" https://en.islcollective.com/, 2016. Web.