Hunger, Homelessness, and Poverty Service-Learning Toolkit
Keywords:
Homelessness
Hunger
Poverty
Service Project
Service Learning
Service Plan
YGFGservice
Youth Advisory Committee
Service-Learning Project Ideas Related to Poverty: This list of service project ideas and resources are designed to spark ideas for actions related to hunger, homelessness, and poverty in the local community.
Photo Credit: Homeless woman with dogs by Franco Folini is licensed under CC by 4.0
Lesson Plans
The best service-learning projects are related to academic learning, involve youth voice and choice, address a researched need, and work with local resources.
Teach Learning to Give lessons to connect service with academic subjects and build philanthropy knowledge and skills. These lesson plans teach about the issues, why we should care and act, and the skills and knowledge of social good, such as writing, advocacy, history, fundraising, and careers.
Hunger and Poverty Lesson Plans
Types of Service Projects
Service action may be direct, indirect, advocacy, research or a combination of these.
Examples: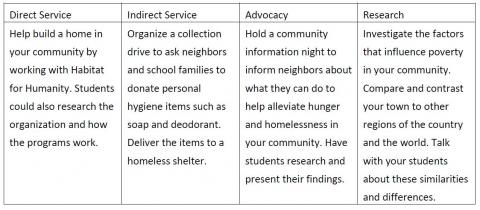 Project Ideas
Community Closet-Cleaning Day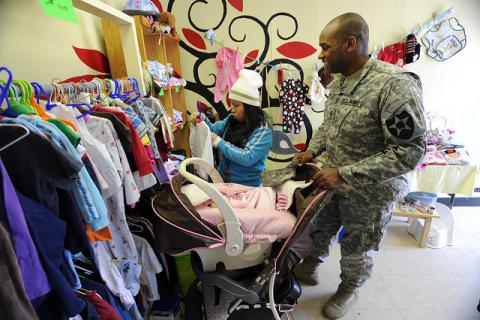 Hold a community closet-cleaning day and encourage a large group of people to donate old clothes, furniture and other items to a local collection agency or homeless shelter. Contact organizations before the event to find out what is need. Publicize these needs and assist people with moving and transport. Photo Credit: Casey's Closet has low prices, benefits for Area 1 by Morning Calm Weekly Newspaper Installation Management Command, U.S. Army is licensed under CC by 4.0
---
Create a sports league
Organize a sports league or team sport lessons for children who cannot afford to participate in local recreation programs. Have youth research areas where they could play or practice. Contact the school to see if their facilities could be used.
---
Craft projects
Volunteer to do craft projects with children at a local soup kitchen where families eat dinner. Provide the supplies and sit with the children and talk while they create something. This is especially helpful if the children can give the item as a gift. Photo Credit: YIPL Origami craft 2010 by Zhao is licensed under CC by 4.0
---
Organize a gift giving event
Organize an event to give gifts to a group of people who utilize a shelter or food pantry. For example, collect donations of personal items for women. Fill shoeboxes for individuals with items like moisturizer, make up, shampoo, toothpaste, treats, deodorant, and razors. Wrap the items for the holiday and give away the boxes on a given day.
---
More Ideas:
Volunteer with Habitat for Humanity to build a home in your community.
Coordinate a food drive with a local agency.
Make repairs or do work around the home of a family in need in the neighborhood.
Plan and plant a community garden in order to donate vegetables to a local school, soup kitchen or food pantry.
Offer free music lessons to children in need.
Learn to knit and donate homemade hats or scarves.
Create handouts or PSAs on community resources and how people can help alleviate poverty.
Research and write letters advocating for increased government resources to combat homelessness and hunger issues. Photo Credit: MOVE Habitat for Humanity 2012-49 by Patrick Giblin is licensed under CC by 4.0

---

Planning a Service-Learning Project

This resource provides guidance and questions for each step of the process.

GUIDE TO PLANNING SERVICE-LEARNING

This chart helps youth prepare for who does what in the service-learning process.

CHART FOR PLANNING SERVICE-LEARNING

---

Potential Community Partners
​​​Find partners in your community who will work with youth on hunger, homelessness and poverty related projects. Engage youth in investigating the issue and calling the partners. Connecting with a community resource makes the project more meaningful and impactful.
Homeless shelters
Food pantries
Local churches
Habitat for Humanity
Housing organizations or developments
Goodwill Industries International
The Salvation Army
Nonprofit organizations that focus on these issues
Other Resources for Investigation and Communication
This is a list of resources that may expand the learning around the issue area and involve youth in identifying needs and solutions.
Go to generationOn.org for a full menu of project plans related to hunger. See a list of great projects for Kids and for Teens.
Urban Institute
This nonprofit organization provides background information on a variety of issues that interest youth, as well as ideas for taking action to promote resolution for issues in the community. Join with other young people to make a difference.
Feeding America Childhood Hunger Facts
Good nutrition is critical in the first three years of life for establishing a foundation for long term good health and academic achievement. The facts on this site provide background information and motivation for taking action.
Housing and Urban Development Exchange (HUD)
The link above has many resources that can help those that are in poverty, the hungry, the homeless population, or those that are trying to alleviate those issues.
National Coalition for the Homeless
This informative website delves into causes, types, demographics, geography and resources on homelessness and related issues. They also have campaigns in which educators and youth can get involved.
No Kid Hungry works to end childhood hunger by connecting kids to effective nutrition programs like school breakfast and summer meals. This work is accomplished through the No Kid Hungry network, providing innovative hunger solutions in their communities. These partners work together, implementing solutions that break down the barriers that keep kids from healthy food.
Substance Abuse and Mental Health Services Administration (SAMHSA)
SAMHSA has many programs and resources on interrelated issues such as poverty, homelessness, employment, mental health and substance abuse. There are articles, videos and online education resources that would be useful for youth and educators on these topics.