Inter-generational Service-Learning Toolkit
Keywords:
Diverse Communities
Diversity
Service Project
Service Learning
Service Plan
YGFGservice
Youth Advisory Committee
Service-Learning Project Ideas Related to Inter-generational Relationships: This list of service project ideas and resources are designed to spark ideas for actions related to reaching out to diverse ages of people.
Lesson Plans
The best service-learning projects are related to academic instruction, involve youth voice and choice, address a researched need, and work with local resources.
Teach Learning to Give lessons to connect service with academic subjects and build philanthropy knowledge and skills. These lesson plans teach about the issues, why we should care and act, and the skills and knowledge of social good, such as writing, advocacy, history, fundraising, and careers.
Lesson Plans for Inter-generational Relationships
Types of Service Projects:
Service action may be direct, indirect, advocacy, research, or a combination of these.
Examples: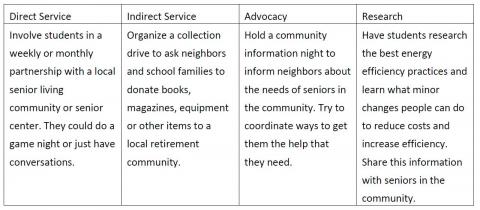 Project Ideas
Relationship building
Visit a local nursing home, retirement community, or senior center for the purpose of reading to, interviewing, or developing inter-generational relationships with elderly residents. Have youth reflect on what they learn from their conversations. Photo Credit: DSC_2432 by First Taste Charity is licensed under CC by 4.0
---
Supply boxes
Make Black-Out Boxes for seniors. Research what a family might need when the lights go out and fill a decorated box with appropriate items (batteries, candles, matches, a phone number form, water bottles, snacks).
---
Picture frames
Make homemade or nicely decorated picture frames for seniors to display pictures of their families. Youth could partner with younger children or seniors to design and create these picture frames. Photo Credit: Get creative at hamleys by Sarah Tirona is licensed under CC by 4.0
---
Knitting activity
Team up with retired community members who know how to knit. Youth can learn how to knit, and donate homemade hats for chemotherapy patients at the local hospital.
---
More Ideas:
Organize a game night at a retirement community.
Volunteer with youth to teach computer or Internet skills at the public library or senior center.
Make repairs or do work around the home of an elderly person in the neighborhood.
Arrange regular class visits to a retirement home. Read to them or present short programs.
Offer free music lessons to younger children.
Teach a game to younger children in an after-school program.
Mentor younger children in leadership and team-building skills.
Knit or sew blankets for moms and babies at the local hospital.
Hold a reading night once a month for elementary age children. Photo Credit: Reading with our Buddies! by Nicole Schaefer is licensed under CC by 4.0

---

Planning a Service-Learning Project

This resource provides guidance and questions for each step of the process.

GUIDE TO PLANNING SERVICE-LEARNING

This chart helps youth prepare for who does what in the service-learning process.

CHART FOR PLANNING SERVICE-LEARNING

---

Potential Community Partners
Find partners in your community who will work with youth on inter-generational projects. Engage youth in investigating the issue and calling the partners. Connecting with a community resource makes the project more meaningful and impactful.
Senior living communities/nursing homes
Senior community centers
Local schools
Universities and colleges
Daycares
Community centers
Libraries
Senior day programs
Other Resources for Investigation and Communication
This is a list of resources that may expand the learning around the issue area and involve youth in identifying needs and solutions.
Go to generationOn.org for a full menu of project plans related to senior citizens. See a list of great projects for Kids and for Teens.
"Generations United's mission is to improve the lives of children, youth, and older adults through inter-generational collaboration, public policies and programs for the enduring benefit of all" (Generations United, 2016). They have many resources for those seeking more support with inter-generational relationships and activities.
This link has a list of resources for inter-generational activities. There are ideas for Grandparents Day, coloring pages, crafts and other ideas for inter-generational relationships.
On Senior Lifestyle's website they have an article that focuses on the benefits of inter-generational relationships for seniors and children. This would be an excellent resource for youth to research so they see some of the positive outcomes.
This website gives teachers many ideas for 'buddy' activities at school. Buddies can read together, do math games, an art project, etc. Check out this resource for more information.
The aging of the world's population is an indicator of improving global health. Older people make important contributions to society as family members, volunteers and as active participants in the workforce. Countries that invest in healthy aging can expect a significant social and economic return for the whole community. What can we learn from other generations?
This YouTube video shows the power of music and how an older man with memory loss lights up and responds to music from his era. This would be helpful to inspire youth to make connections with seniors.
---
Bibliography
Library of Congress. "Exploring Cultural Rituals: Intergenerational Interview" loc.gov/teachers, n.d., Web.
Penn State Extension. "Intergenerational Activities Sourcebook" extension.psu.edu, 2016. Web.