TeachOne for Black History Month
"If you have information, you can take action and make change." – Bryan Stevenson, EJI
Dr. King was the chief spokesperson for nonviolent activism in the Civil Rights Movement. Dr. King. modeled acts of philanthropy in the form of advocacy, which means "using words to persuade and inform others of your cause."
Powerful Words Unite Us in Service:
This lesson was designed by a high school classroom that was motivated by a quote by Dr. King. The students tried to envision a project centered on driving out hate in their community by showing love. Work individually or in teams to make a poster and display it virtually or in a public area. Use words, love, and light to unite people in the community. We have adapted it for elementary and secondary levels.
Use the green SEARCH button at the top of the page to find additional lessons and resources about Dr. King, social justice, or Civil Rights.
On January 19, people across the country came together in conversations about race on a National Day of Racial Healing. We invite you to participate by viewing the recording and having guided conversations with the youth in your care throughout the month of January.
As a nation, we are now more aware of the need for action to counter-act the systemic racism that was built over time by our government, communities, language, and perceptions. This National Day of Racial Healing is designed to open up and guide conversations and move forward together toward equity.
Read more about the event and what you can do.
Literature Guides for Discussion and Learning
These literature guides linked below facilitate one-to-one, small group, or classroom reading of a book. The guides provide before, during, and after-reading discussion questions. Choose from activities and discussion questions to build understanding of historical stories of courage, leadership, and service to others.
Sometimes People March by Tessa Allen
Literature Guide
This is an important book that can inform and inspire the reader about using their voice together with others. It is a celebration of our common humanity and illustraes the importance of working together for positive change.
Teach Us Your Name by Huda Essa
Literature Guide
Names carry weight. Many times a name is said wrong or shortened to make pronouncing it easier for us, but for the other person it feels as if we are dismissing them. Our name and where we are from is a large part of what makes us who we are. Respecting others' names allows them to feel respected. This builds trust, and trust turns into relationship that helps the community.
The Undefeated by Kwame Alexander
Literature Guide
Kwame Alexander's award winning book "The Undefeated" is a poem to celebrate the creativity, perseverance, grit and impact of Black Americans on the history of the United States of America. It is both a call to action and a reminder to all that we must never give up.
All Are Welcome by Alexandra Penfold and Suzanne Kaufman
Literature Guide
School is a community where diversity is celebrated and people of all backgrounds, abilities, and appearances are welcome. This book is a rhythmic colorful tour of the first day of school and all of the activities taking place. The pages are filled with diversity of all types, warmth, and an inclusive "all are welcome here" mantra. "We're part of a community. Our strength is our diversity."
We Are Not Yet Equal by Carol Anderson and Tony Bolden
Literature Guide
History texts often teach that the U.S. made a straight line of progress toward Black equality. The reality is more complex: milestones like the end of slavery, school integration, and voting rights have been met with racist legal and political maneuverings meant to limit that progress. This book examines five of these moments. The photographs and extra context, specifically for teens, provide history to help us work for an equitable future.
The Hate U Give by Angie Thomas
Literature Guide
Have you ever had to find your voice? In this story, Starr witnesses police brutality that is racially motivated and struggles to find the right way to speak up because she is afraid of the reactions of others in the two different communities she is part of. Many communities are facing racial injustice, and kids around the world are choosing to stand up and advocate for the causes they believe in. This book generates good discussion about what we can each do to help.
---
---
TeachOne with your classroom or whole school
to empower youth to "do good" and "do well."
Include TeachOne as a way to jumpstart conversations of giving all year long. Learning to Give's TeachOne lessons consist of a single-session lesson and service project to help educators and youth leaders introduce different issues and a variety of ways to be generous. This way we grow our different generosity muscles along with deeper understanding of our communities.
Back to School

#GivingTuesday

Martin Luther King Jr. Day

Earth Day
TeachOne Feature Lessons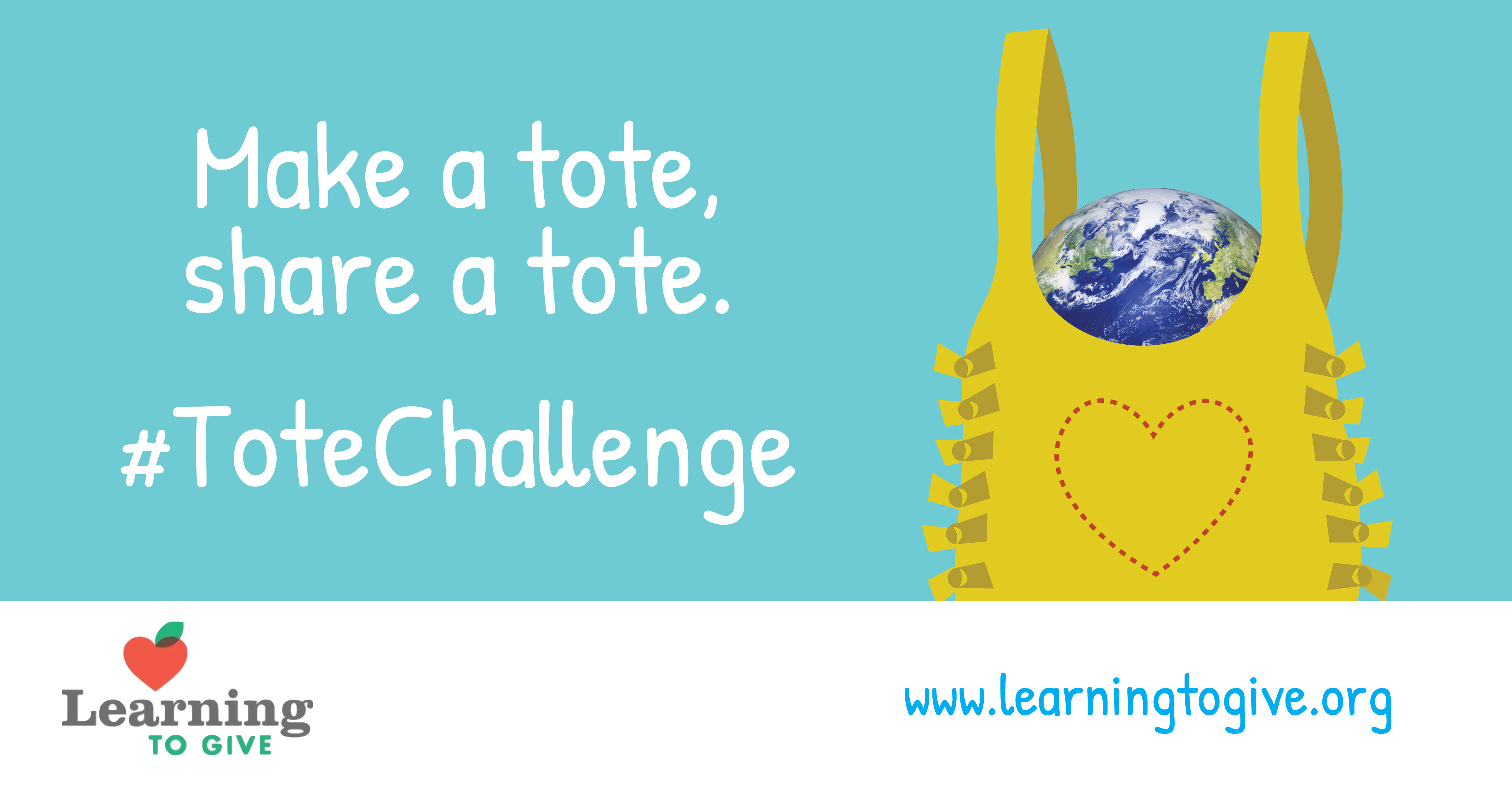 Tote Challenge:
#ToteChallenge: Begin with an investigation of the problems caused by plastic shopping bags, and spark youth passion for taking action. They may propose solutions, such as repurposing plastic or using alternative, or advocating for sustainable practices. This project includes instructions for groups to design a reusable shopping tote out of an old T-shirt using engineering, problem-solving, creativity, and communication. They take action by using and sharing their homemade totes and by educating the community about problems and solutions to the plastic bag crisis.
TeachOne: Coming Together for Environmental Action
Earth Day
Learners identify an outdoor space that needs cleanup, and they survey all the possible stakeholders before they take action together. With a goal of building peaceful and inclusive communities (UN Sustainable Development Goal #16), listening to others' perspectives is key to moving forward together for a better world.
Back to School
These lessons teach respectful language for positive group formation. Using literature to build relationships through trauma-informed practices, facilitators teach youth the choices they have to influence peaceful and inclusive communities. As a service, students make and donate "calming kits" filled with homemade items that sooth someone who is feeling anxiety or trauma.
TeachOne: King's Words of Challenge
Martin Luther King, Jr. Day
These lessons and projects give tools and tips for discovering our spark and celebrating the diverse contributions we all can make. Students internalize "I matter in my communities." As a service project, secondary youth design and take a poll to find out what issues others care about. Younger children bring joy and connection to others in the community.
Back to School
Inspire youth to get creative and take action to collect and redistribute used crayons to children that need them. Develop community connections and make art!
Martin Luther King, Jr. Day
Teach tools of generous listening and visual literacy. Youth create and share a poster with a simple image and simple text to communicate a message of kindness, diversity, and/or community.
Earth Day
This project captures participants' love for the outdoors and shows them how they can use their passion to give back to their community and feel good.