What Is #GivingTuesday?
#GivingTuesday is a global day of giving celebrated on the Tuesday following Thanksgiving, November 29, 2022. It's a day when generosity is elevated after two shopping events: Black Friday and Cyber Monday. On this national day of giving, people around the world are talking about where they will give and encourage others to give.
Since #GivingTuesday is a social event, tell about the SMILES you share on social media: @LearningtoGive #GivingTuesday #MakeSomeoneSmile
Ways to Make Someone Smile:
Call someone on the phone who will smile to hear your voice.
Spark a conversation about giving and caring with this discussion guide
Write a note of kindness and cheer to someone at a retirement or veteran's home.
Start a virtual hangout or a buddy bench.
Teens: Ask the principal at a local school what you can do for elementary students.
Ask a non-profit organization in your community what you can do to support their mission.
Pick up paper bags from a local grocery store and decorate with cheery messages, then bring them back to the store or a food pantry to be used for customers.
Write a message on a "Doodle Stone" and hide it outside for someone to find.
Come up with your own ideas!
This Kid President video may inspire conversation about simple things we can do.
As educators and families, we can TeachOne lesson to raise awareness of the importance of giving and help our children realize they have something valuable to give - their time, talent, or treasure.
GivingTuesdaySpark is all about empowering young people to lead the way in sparking generosity in communities all over the world! On GivingTuesday kids, teens, and young adults will lead volunteer projects, acts of kindness, and give back in the ways that matter most to them, creating something positive and making a difference in the world.
Check out the GivingTuesdaySpark website for sample projects, curriculum and lessons that you can use to help you ignite sparks of change.
Register your project at GivingTuesdaySpark.org and join the whole world in giving back on December 1.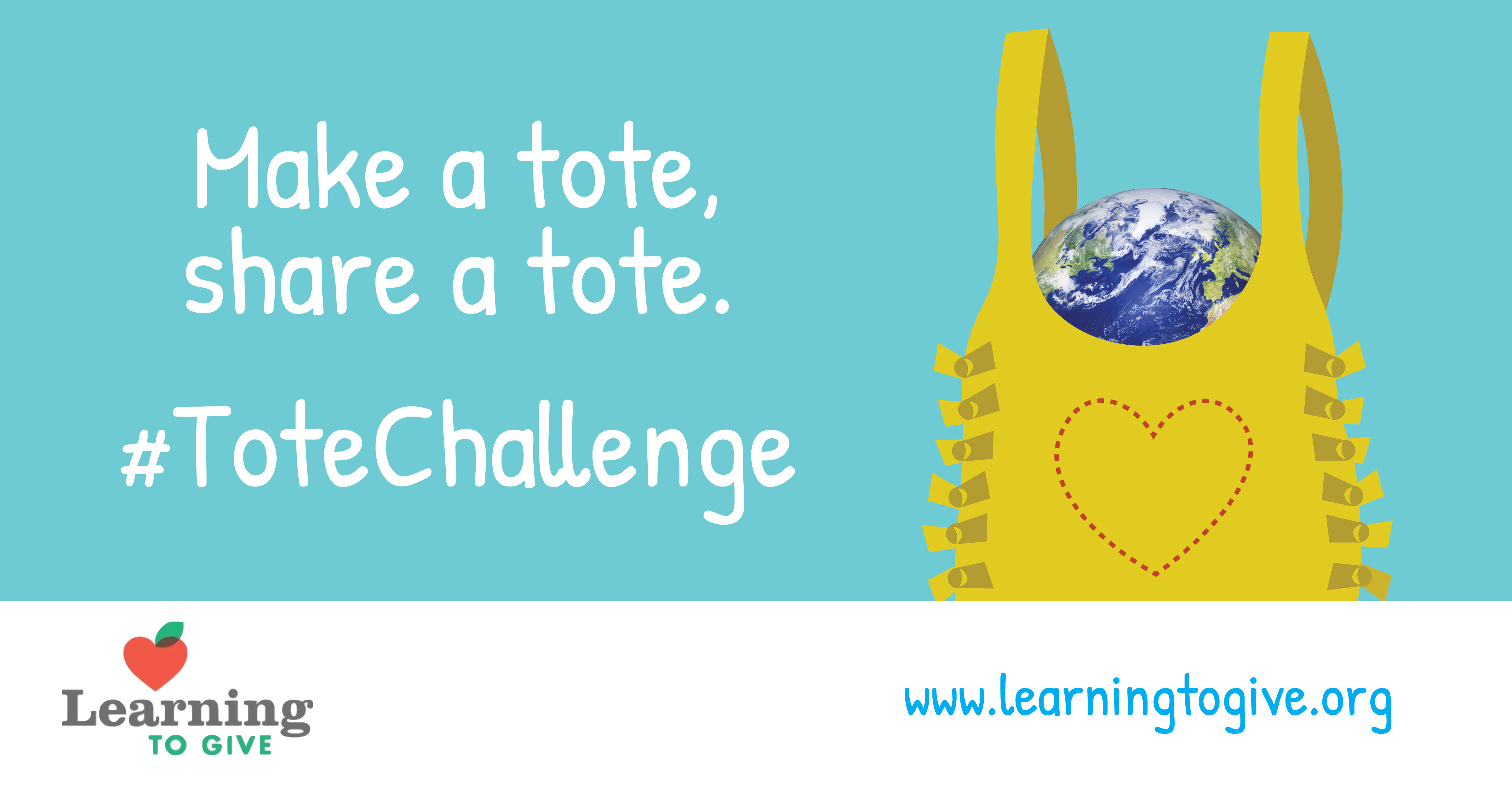 Tote Challenge:
#ToteChallenge: Begin with an investigation of the problems caused by plastic shopping bags, and spark youth passion for taking action. Young people may propose solutions, such as repurposing plastic or using an alternative, or advocating for sustainable practices. This project includes instructions for groups to design a reusable shopping tote out of an old T-shirt using engineering, problem-solving, creativity, and communication. They take action by using and sharing their homemade totes and by educating the community about problems and solutions to the plastic bag crisis.
TeachOne: Coming Together for Environmental Action
Earth Day
Learners identify an outdoor space that needs cleanup, and they survey all the possible stakeholders before they take action together. With a goal of building peaceful and inclusive communities (UN Sustainable Development Goal #16), listening to others' perspectives is key to moving forward together for a better world.
Back to School
These lessons teach respectful language for positive group formation. Using literature to build relationships through trauma-informed practices, facilitators teach youth the choices they have to influence peaceful and inclusive communities. As a service, students make and donate "calming kits" filled with homemade items that sooth someone who is feeling anxiety or trauma.
TeachOne: King's Words of Challenge
Martin Luther King, Jr. Day
These lessons and projects give tools and tips for discovering our spark and celebrating the diverse contributions we all can make. Students internalize "I matter in my communities." As a service project, secondary youth design and take a poll to find out what issues others care about. Younger children bring joy and connection to others in the community.
Back to School
Inspire youth to get creative and take action to collect and redistribute used crayons to children that need them. Develop community connections and make art!
Martin Luther King, Jr. Day
Teach tools of generous listening and visual literacy. Youth create and share a poster with a simple image and simple text to communicate a message of kindness, diversity, and/or community.
Earth Day
This project captures participants' love for the outdoors and shows them how they can use their passion to give back to their community and feel good.