What to Teach While Learning from Home
Inspire youth with conversations about generosity, social justice, and a purpose beyond ourselves.
Social Awareness
Social Emotional Learning in Community - video and activities to build skills and practice
Teaching Social Justice and Building Community in Remote Settings - Guides for K-5, 6-8, and 9-12
Teach generosity and awareness through shared reading. These literature guides provide before-, during-, and after-reading questions and activities. Good books and the shared experience of reading together is powerful in developing character. Literature brings us closer and introduces real issues and broadens experience in a safe environment.
This timely set of Voting and Civic Engagement resources guides youth to advocacy - Our civic responsibility is to to act in a way that is best for the common good. It is important to stay informed and act for the good of all.
Connect Virtually in Community - While it is easy to identify the down sides of this pandemic, calling attention to the generous nature of this global effort - what we can do for the common good - can help us feel better about the difficulty of staying apart from friends, loved ones, and school. This also opens an opportunity for creativity and finding solutions that challenge us to think of others.
Simple Safe Service
Simple Safe Service activities are family-friendly service projects that are fun and meaningful! The activities prompt young people to share their time and talent and feel the pride of making a difference as they #DoGoodFromHome. The 20 guides cover a variety of issue areas and include reflection prompts and optional lesson plans.
Follow Learning to Give on social media for inspiration, ideas, and tips. We're on Facebook, Twitter, LinkedIn, and Instagram.
---
Include TeachOne in Your Year Plan
Learning to Give's TeachOne lessons consist of a single-session lesson and service project to help educators and youth leaders introduce the concepts of philanthropy.
TeachOne lesson for each season to build understanding of different issues and ways to be generous.
Back to School
#GivingTuesday
Martin Luther King Jr. Day
Earth Day
TeachOne – with your classroom or whole school – to empower youth to "do good" and "do well."
TeachOne for Earth Day 2020
TeachOne: Coming Together for Environmental Action
Learners identify an outdoor space that needs cleanup, and they survey all the possible stakeholders before they take action together. With a goal of building peaceful and inclusive communities (UN Sustainable Development Goal #16), listening to others' perspectives is key to moving forward together for a better world.
TeachOne for Back to School 2019-20
These lessons teach respectful language for positive group formation. Using literature to build relationships through trauma-informed practices, facilitators teach youth the choices they have to influence peaceful and inclusive communities.
As a service, students make "calming kits" filled with homemade items that sooth someone who is feeling anxiety or trauma. The kits may be donated to a classroom, police station, hospital, or other place where self-calming tools and words can help calm a young person.
TeachOne for Martin Luther King, Jr. Day 2020
TeachOne: King's Words of Challenge
These lessons and projects give tools and tips for discovering our spark and celebrating the diverse contributions we all can make. Students internalize "I matter in my communities."
As a service project, secondary youth design and take a poll to find out what issues others care about and what talents and interests they have. Younger students share their personal talents and interests with people of another generation to bring joy and connection to others in the community.
TeachOne Feature Lessons from 2018-19
Back to School
Inspire youth to get creative and take action to collect and redistribute used crayons to children that need them. Develop community connections and make art!
Martin Luther King, Jr. Day
Teach tools of generous listening and visual literacy. Youth create and share a poster with a simple image and simple text to communicate a message of kindness, diversity, and/or community.
Earth Day
This project captures participants' love for the outdoors and shows them how they can use their passion to give back to their community and feel good.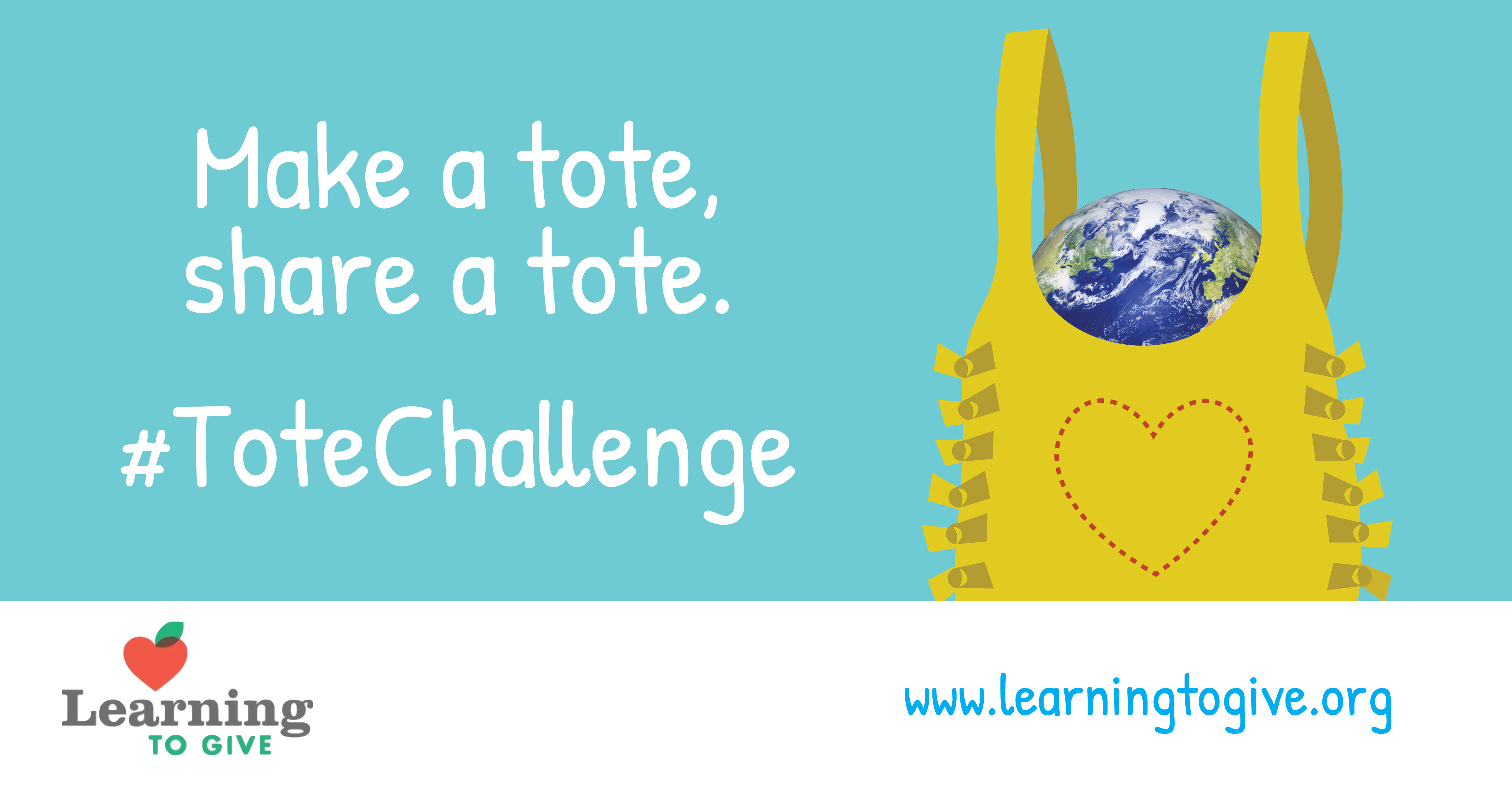 K-12 #ToteChallenge: Begin with an investigation of the problems caused by plastic shopping bags, and spark youth passion for taking action. They may propose solutions, such as repurposing plastic or using alternative, or advocating for sustainable practices. This project includes instructions for groups to design a reusable shopping tote out of an old T-shirt using engineering, problem-solving, creativity, and communication. They take action by using and sharing their homemade totes and by educating the community about problems and solutions to the plastic bag crisis.
---
TeachOne for GivingTuesday
GivingTuesday is a global day of giving celebrated on the Tuesday following Thanksgiving. It's a day that generosity is elevated after two shopping events: Black Friday and Cyber Monday. On the day people around the world are talking about where they will give, teach one of these K-12 lessons to raise awareness of the importance of giving and help them realize they have something valuable to give - their time, talent, or treasure.
Since GivingTuesday is a social event, here's a meaningful way to share your students' generous hearts:
Lead the Blue Sky activity to open discussions about interests and community needs. Share your students' visions and creations on social media. Download and print our selfie template and snag a few pics of students sharing how they plan to give their time, talent, or treasure. (Login to download this template.)
Tag posts with @learningtogive #LTGInMyClassroom #Teach1 #GivingTuesdayKids