"Everybody can be great because anybody can serve. You don't have to have a college degree to serve. You don't have to make your subject and verb agree to serve. You only need a heart full of grace. A soul generated by love." - Martin Luther King, Jr.
January 17, 2022 is Martin Luther King, Jr. Day. This day reminds us to learn our full history - the stories of all our people. It is a day to model our own actions after leaders of civic strength and grace, developing each person's power to make a difference with their words, attitude, and action.
With good current and historical models, youth focus on personal actions for the good of all - on this day of generosity and philanthropy. Learning to Give's resources help you engage youth to realize their own power to make a difference.
Martin Luther King, Jr. Day Lesson Plans

TeachOne: King's Words of Challenge
These lessons and projects give tools and tips for discovering our spark and celebrating the diverse contributions we all can make. Students internalize "I matter in my communities." As a service project, secondary youth design and take a poll to find out what issues others care about. Younger children bring joy and connection to others in the community.
Teach tools of generous listening and visual literacy. Youth create and share a poster with a simple image and simple text to communicate a message of kindness, diversity, and/or community.
These elementary and secondary lessons were designed by a high school classroom that was motivated by a quote by Dr. Martin Luther King, Jr. They tried to envision a project centered on driving out hate in their community by showing love. Participants analyze quotes by Martin Luther King, Jr, about being loving and inclusive. then design posters to encourage action and diverse community building.
---
Lessons and Resources for Equity and Justice
The promise of America is liberty and justice for all. In an effort to assert their own views, people often cannot listen to the words or hear the needs of others and have difficulty finding common ground. We look up to those who have helped our world embrace our individuality and lead us to a more equitable and just world. Such leaders as Martin Luther King, Jr., Malcolm X, Harriet Tubman, and many more inspire our world to take action to achieve justice. Each young person can be inspired by such movements and have the ability to take big and small actions to help us create a more equitable world.
---
Simple Safe Service Projects
These simple and safe project guides are an easy entry for any group of young people looking to make a difference with their time and talent. Choose from a variety of project guides. The guides linked below are related to giving our time in community.
Equity in Your Library - A simple safe service project to build a culturally diverse library. First you analyze and discuss the cultural representation of a library's collection. Then look for gaps and make a proposal to grow the diversity of the books and challenge yourself and others to learn about people and the world from different perspectives.
Inequity in Education - A simple safe service project to explore different ways people have been impacted by the pandemic. Young people use writing to communicate an idea to make one inequity a little more fair.
Listen with Generosity - A simple safe service project that practices listening as an act of generosity. This service activity guides small groups to practice listening respectfully to another.
Advocacy Posters - A simple safe service that challenges young people to listen carefully to the problems and hurts expressed by others. Focus on an issue you care about and make a poster to simply communicate a message you want others to hear. Images and words together can inform and persuade to make change.
ABCs of Advocacy - A simple safe service project that shares your knowledge and ideas for action about an issue you care about through writing and illustrating an ABC book. This format is great for teaching younger children (or anyone) about the vocabulary of inclusion and respect.
---
Literature Guides for Discussion and Learning
These literature guides linked below facilitate one-to-one, small group, or classroom reading of a book. The guides provide before, during, and after-reading discussion questions. Choose from activities and discussion questions to build understanding of ourselves and our role in community.
Martin's Big Words by Doreen Rappaport - Through the use of Dr. King's own words, Rappaport crafts a compelling biography. Collier's art both illuminates and magnifies Dr. King's life. The use of light and dark throughout the book invites the reader to feel the pain of Dr. King's struggle and the light of hope he sought to bring to the world.
All Are Welcome by Alexandra Penfold - School is a community where diversity is celebrated and people of all backgrounds, abilities, and appearances are welcome. This book is a rhythmic, colorful tour of the first day of school and all of the activities taking place. The pages are filled with diversity of all types, warmth, and an inclusive "all are welcome here" mantra. Choose from activities and discussion questions to enhance children's understanding of kindness, diversity, and inclusion.
All American Boys by Jason Reynolds and Brendan Kiely - A guide for parents, teens, teachers, and group leaders to accompany the reading of this young adult novel. The guide below provides discussion questions to analyze the important issues of racism and bias and bring out the themes related to identity, community, empathy, and generosity. The narrative reveals different experiences and perspectives of diverse kids when the incident challenges everyone to face their identity, values, and hidden biases.
Change Sings - This book by poet and activist Amanda Gorman sings with optimism for our personal power to make a difference for a better world. It is a celebration of change through grace and vision. In this "children's anthem," Gorman inspires us to act with our personal gifts while collectively being the best we can be.
"I can hear change humming

In its loudest, proudest song.

I don't fear change coming,

And so I sing along." – Amanda Gorman, Change Sings
---
New to teaching philanthropy? Here are some things that can help you get started:
These three pages are designed to guide youth as they build self and community awareness and skills of engagement. Choose one or two activities from each page so youth learn through knowledge and experience they are a vital part of something bigger.
---
TeachOne with your classroom or whole school
to empower youth to "do good" and "do well."
Include TeachOne as a way to jumpstart conversations of giving all year long. Learning to Give's TeachOne lessons consist of a single-session lesson and service project to help educators and youth leaders introduce different issues and a variety of ways to be generous. This way we grow our different generosity muscles along with deeper understanding of our communities.
Back to School

#GivingTuesday

Martin Luther King Jr. Day

Earth Day
Earth Day
This project captures participants' love for the outdoors and shows them how they can use their passion to give back to their community and feel good.

Children get outside and play in nature and recognize the beauty of diverse living things in their environment. Their service project is to share nature with someone else in a creative interaction.
Youth explore how individuals can act in ways that honor the earth. Participants learn the importance of mutual flourishing between humans and nature as we work toward a pathway to sustainability for all. Motivation and education move toward a call to action to seek justice for all of creation.
TeachOne: Coming Together for Environmental Action
Learners identify an outdoor space that needs cleanup, and they survey all the possible stakeholders before they take action together. With a goal of building peaceful and inclusive communities (UN Sustainable Development Goal #16), listening to others' perspectives is key to moving forward together for a better world.
---
Back to School
These lessons teach respectful language for positive group formation. Using literature to build relationships through trauma-informed practices, facilitators teach youth the choices they have to influence peaceful and inclusive communities. As a service, students make and donate "calming kits" filled with homemade items that sooth someone who is feeling anxiety or trauma.
---
Environmental Challenge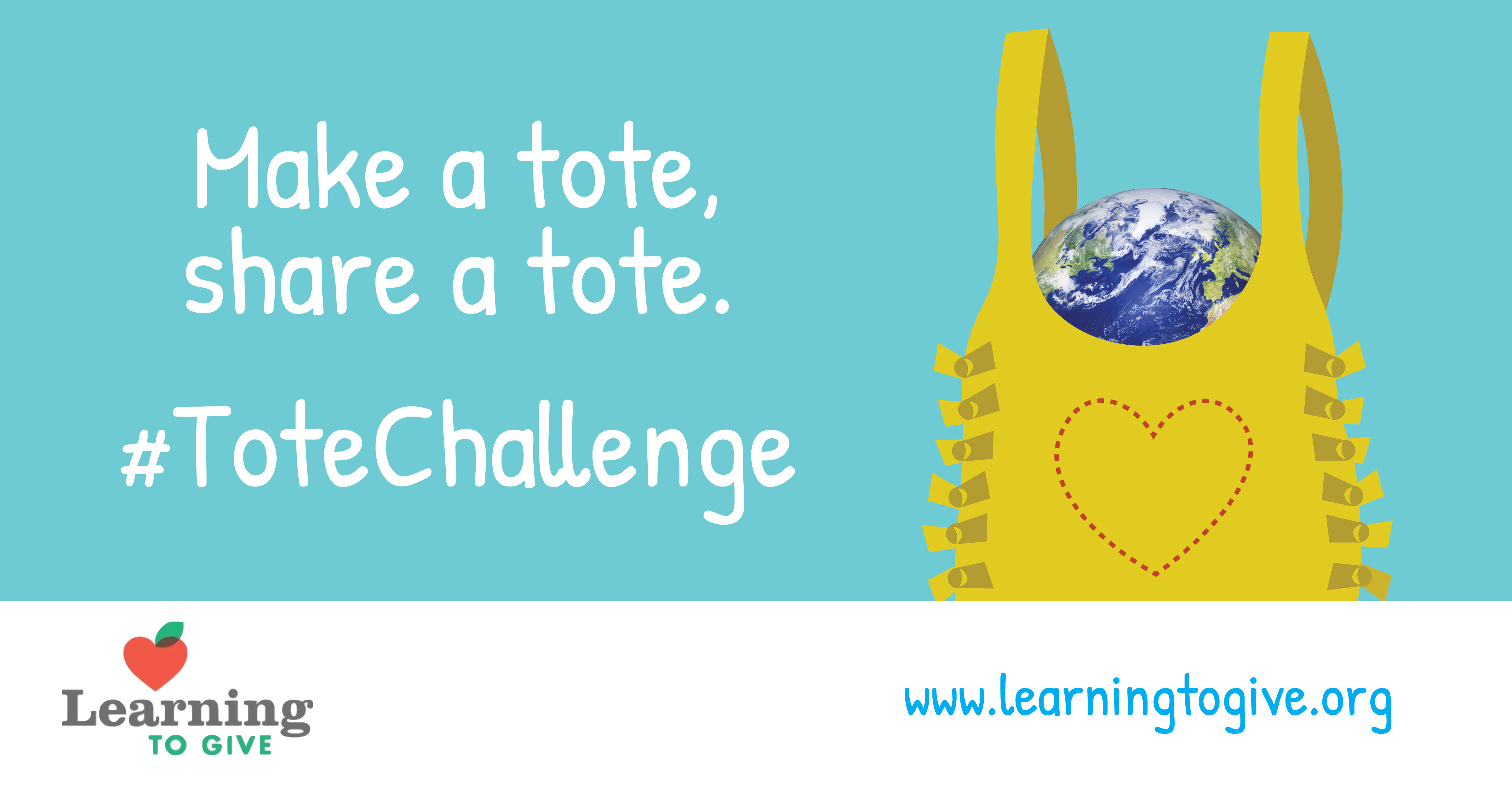 In this lesson, young people begin with an investigation of the problems caused by plastic shopping bags. They may propose creative solutions or follow this group project challenge to design a reusable shopping tote out of an old T-shirt using engineering, problem-solving, creativity, and communication. They take action by using and sharing their homemade totes and by educating the community about problems and solutions to the plastic bag crisis.
---
#GivingTuesday
In this lesson we learn how GivingTuesday, an international initiative, focuses on generosity and the power of social media and combining efforts with others to make a big difference. Young people explore their giving passion and use communication as an instrument of change.