Include TeachOne in Your School Year Plan
This year, Learning to Give's TeachOne lessons (Back to School, Martin Luther King Jr. Day, and Earth Day) teach the skills of respectful dialogue and guide students to work toward peaceful and inclusive communities (Sustainable Development Goal #16).
TeachOne, with its single lesson and project idea, is our antidote to, "I don't have time for that." Give TeachOne a try to see how impactful generosity can be on your classroom culture and student learning, AND how seamless it is to infuse philanthropy into your everyday teaching practice with Learning to Give's hundreds of free online lessons and activities.
Teaching giving and caring isn't an add on, it's part of what you do every day!
TeachOne – with your classroom or whole school – to empower your students to want to "do good" and "do well."
---
TeachOne for Back to School 2019
TeachOne: Words Bring Peace includes elementary and secondary versions of a lesson that teaches respectful language for positive group formation, such as at the beginning of the school year. Using literature to build relationships through trauma-informed practices, facilitators teach youth the choices they have to influence a peaceful and inclusive community. Lessons developed for elementary (K-5) and secondary (6-12).
Service-Learning connection: Students make "calming kits" filled with homemade items that sooth someone who is feeling anxiety or trauma. The kits may be donated to a classroom, police station, hospital, or other place where self-calming tools and words can help a young person self-regulate their anxiety.
Additional TeachOne 2019 lessons for Martin Luther King, Jr. Day and Earth Day coming soon!
---
Professional Development Opportunity: Learn More About The SDGs
Consider enhancing your understanding of peaceful and inclusive communities, one of the Global Sustainable Development Goals, with our free mini-course. In this mini-course, we introduce the 17 SDGs and explore ways to bring the goals to life in the classroom. We guide you as you teach your students about the current 17 goals with tools to research and decide which issue they care about most. Our TeachOne 2019 lessons focus on Goal 16: Peace, Justice, and Strong Institutions.
Upon successful completion of the course quiz, you may request a certificate suitable for a professional development portfolio, or as proof of .75 educational clock hours that can be used toward continuing education credit in most states. Please contact your State Department of Education or school district for specific information.
---
TeachOne Feature Lessons 2018-19
Select from any of our TeachOne lessons to inspire your students to be giving, caring, and community-minded this school year and beyond!
July—October
Empower your students through this lesson and project to inspire them to get creative and take action to collect and redistribute used crayons to children that need them. Develop community connections and make art!
Interdisciplinary themes: social studies, SEL, stewardship, nonprofit and for-profit, critical thinking, language, math, science, art, doing good
November—February
Empower your students through this lesson and project to teach tools of generous listening and visual literacy. Students create and share a poster with a simple image and simple text to communicate a message of kindness, diversity, and/or community.
Interdisciplinary themes: advocacy for diversity, language, interviews, visual literacy, visual art, poetry, civic engagement; listening
March—May
Empower your students through this lesson and project to capture your students' love for the outdoors and show them how they can use their passion to give back to their community and feel good.
Interdisciplinary themes: language, reading, art, history, geography, physical activity, building, stewardship timeline
---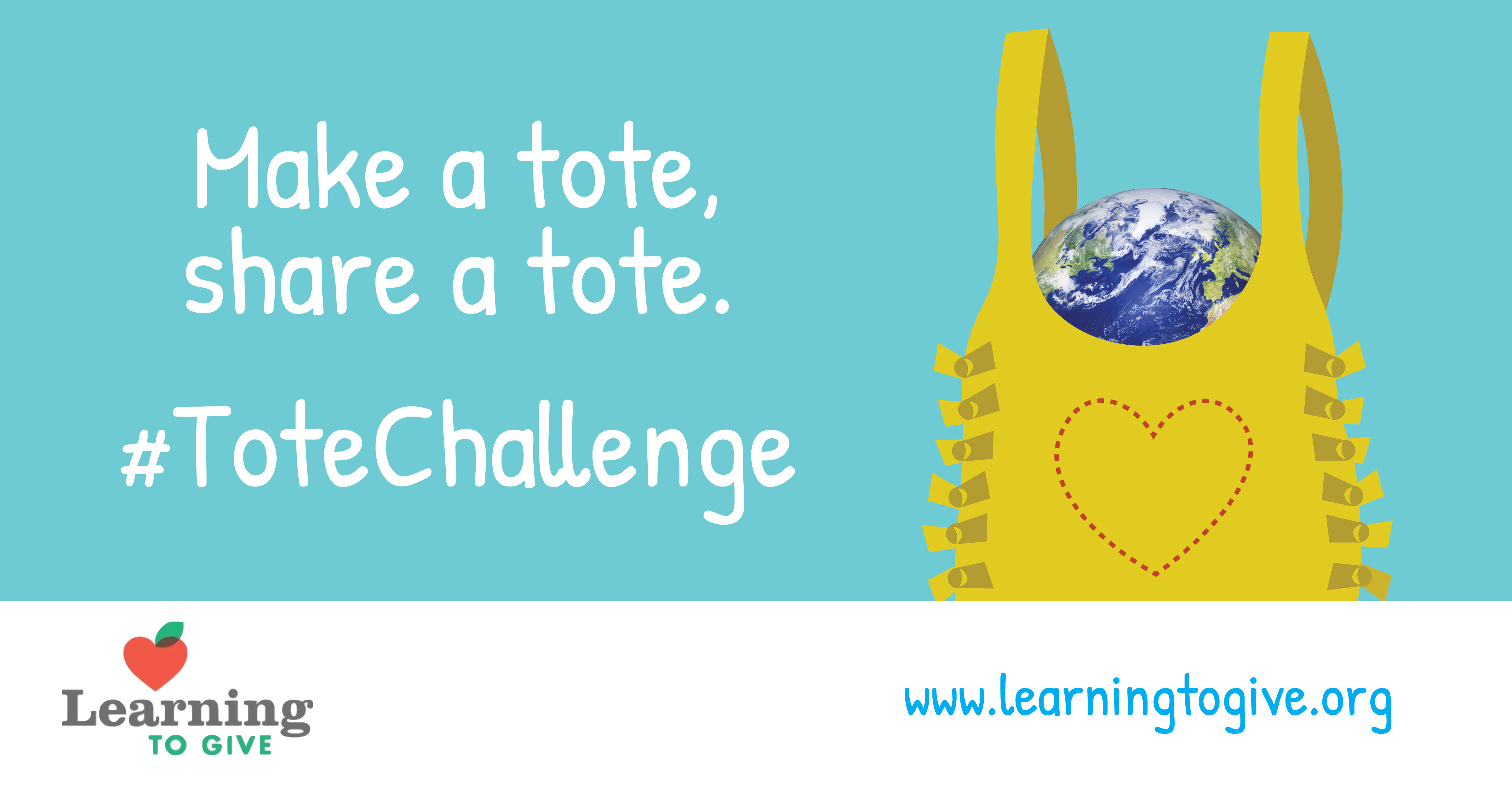 Tote Challenge: Popular in 2017-18 and 2018-19
K-12 #ToteChallenge: Students investigate the problems caused by plastic shopping bags, then propose solutions they can take to address the problems. They brainstorm uses for plastic bags and design a reusable shopping tote out of an old T-shirt using engineering, problem-solving, creativity, and communication. They take action by using and sharing their homemade totes and by educating the community about problems and solutions to the plastic bag crisis.
---
Each one-session lesson is followed with a simple and powerful service project and reflection. These lessons spark meaningful discussions and service that centers on giving, sharing, and caring.
TeachOne in your classroom or rally others in your building to TeachOne on #GivingTuesday, December 3.
---
Measuring Impact
These evaluations may be completed by parents and families, community partners, students, and teachers, and may be used in conjunction with any Learning to Give lesson, toolkit, or resource. The goal is to help you collect information about the impact of your philanthropy and service-learning instruction.
*You must have an active Learning to Give account to access the evaluation materials.
Learning to Give is interested in data related to school participation. We encourage you to send us copies of your evalutaions when you are done with them.
Connecting with Educators
When you TeachOne, remember to share the lesson and project with your colleages and media. Tell us what you and your students did, and look to Learning to Give to connect you with a similar grade level in another state doing the same lesson and project. @LearningtoGive #LTGInMyClassroom #Teach1