Justice-Related Service-Learning Toolkit
Keywords:
Civil Rights
Fairness
Justice
Service Project
Service Learning
Service Plan
Social Justice
Service-Learning Project Ideas Related to Justice, Civil Rights and Advocacy: This list of service project ideas and resources are designed to spark ideas for actions related to advocacy, justice, and civil rights.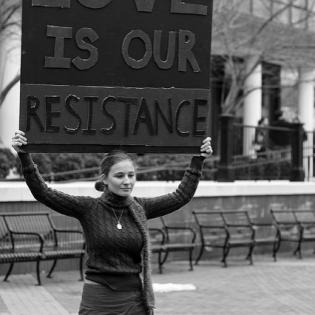 Photo credit: Mar 02 (161) by Jessica Lucia is licensed under CC BY 2.0
Lesson Plans
The best service-learning projects are related to classroom instruction, involve student voice and choice, address a researched need, and work with local resources.
Teach Learning to Give lessons to connect service with academic subjects and build philanthropy knowledge and skills. These lesson plans teach about the issues, why we should care and act, and the skills and knowledge of social good, such as writing, advocacy, history, fundraising, and careers.
Types of Service Projects
Student action may be direct, indirect, advocacy, research, or a combination of these.
Examples:

Project Ideas
Host a civil rights forum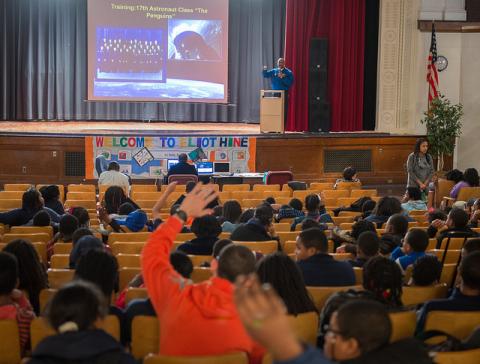 Coordinate with the school administration to host a civil rights forum or discussion. Have students research the history and current climate of civil rights in their community. Invite students, teachers, community members and families to be a part of the forum. The goals should be to increase dialogue around the issues and to learn from each other. Photo Credit: Melvin at Eliot Hine Middle School by NASA HQ Photo by CC by 4.0
---
Partner with local advocates and activists
Have your students research local civil rights advocates and activists. Invite them to your classroom for a discussion around justice and civil rights. Ask them how your students can support their efforts and work on a campaign, project or rally together!
---
Promote tolerance and raise awareness
Investigate the civil rights issues of today, such as LGBT rights or mental illness, and create a campaign to raise awareness and promote tolerance. Look at civil rights models from the past and current media to learn about effective communication and persuasion techniques. Photo Credit: mark_carson_protest_DSC_0131 by Michael Fleshman is licensed under CC by 4.0
---
I have a dream...
Show your students videos and transcripts of Dr. Martin Luther King Jr.'s I Have A Dream speech. Have a discussion about the message and importance of this speech. Ask your students to write their own I Have A Dream speeches that are inspired by the original text. Have them share their speeches in front of the school or community.
---
More Ideas:
Create PSA videos for civil rights issues. Show them at school or on local tv stations.
Recreate courtroom scenes from famous cases on justice issues.
Have your students create a civil rights or LGBTQ alliance student group at school.
Write and perform skits that are based on justice, advocacy and civil rights issues.
Interview civil rights and LGBTQ leaders in the community. Have them tell their stories to students and how students can get involved.
Research and recreate famous speeches by leaders and advocates for justice such as Harvey Milk, Dr. Martin Luther King Jr., Temple Grandin and others.
Read books to your students about Ruby Bridges, Rosa Parks, and other leaders of justice.
Students could create a survey for the school or community on their opinions of the most pressing civil rights issues in the community. Compare, contrast and present the findings.

Advocate for fairness and justice by writing a letter, calling or emailing a public official, or speaking at a public meeting. Photo Credit: Civil Rights Tour March 2008- Montgomery, AL by Greg Hoke is licensed under CC by 4.0

---

Potential Community Partners
Find partners in your community who will work with your students on justice, civil rights and advocacy related projects. Engage the students in investigating the issue and calling the partners. Connecting with a community resource makes the project more meaningful and impactful.​
Community activists and advocates
Local or state government officials
NAACP local chapters or similar civil rights organizations
Special Olympics
Best Buddies
LGBTQ nonprofit organizations
Local colleges and universities
Other Resources for Investigation and Communication
This is a list of resources that may expand the learning around the issue area and involve the students in identifying needs and solutions.
AAPD works to change the future for people with disabilties politically, economically, educationally and in many other ways. Essentially, they believe in equal rights and overall advancement for people living with disabilities. They have many ways that your students could get involved including a campaign to end bullying, and information regarding Disability Mentoring Day.
Go to generationOn.org for a full menu of project plans related to bullying and tolerance. See a list of great projects for Kids and for Teens.
This nonprofit provides background information on a variety of issues that interest youth, as well as ideas for taking action to promote resolution for issues. Join with other young people to make a difference. There is a specific section that focuses on discrimination and promoting fairness that would be helpful for this purpose.
This organization focuses on basic, equal rights for LGBTQ people all over the country. They have a special section that explores local issues by state so users are able to find out exactly what is happening in their community.
The It Gets Better Project's mission is to communicate to lesbian, gay, bisexual and transgender youth around the world that it gets better, and to create and inspire the changes needed to make it better for them.
This is the oldest and most prominent civil rights organizations in the country. The NAACP often coordinates many different organizations and issues "to ensure the political, educational, social, and economic equality of rights of all persons and to eliminate race-based discrimination" (NAACP, 2016). They provide helpful resources and information on their issues that could help students become more informed.
This organization is dedicated to advocating and protecting those with disabilities. There are resources on public policies regarding access to education, healthcare and other areas for people with disabilities.
Their mission "is to create a new generation of research in social science and law, on the critical issues of civil rights and equal opportunity for racial and ethnic groups in the United States" (The Civil Rights Project, 2010). They have a long list of research tools and civil rights organizations that would be helpful in assisting students with their service projects.
---
Bibliography
Lesson Planet. "American Equality Milestones" LessonPlanet.com, 2016 Web.
Southern Poverty Law Center & Teaching Tolerance. "Civil Rights Activity Book" Tolerance.org, 2016 Web.