Grounded in academics and linked to real life, Learning to Give lessons and resources apply from kindergarten through high school. Our mission is to provide quality, inspirational, and field tested tools to help K-12 teachers educate, equip, and empower their students to be giving and caring citizens.
Imagine a world where all youth are knowledgeable and equipped for lifelong engagement in philanthropy as givers of time, talent, and treasure for the common good.
Children are born with the desire to help, and we can either nurture it or let it fade. From kindergarten to twelfth grade, our teachers are introducing their students to using their talents and skills to make a difference. With Learning to Give in the classroom, the next generation will learn the traits of service, civic action, and revolutionary change.
Peer reviewed and independently evaluated, Learning to Give lessons are based on a deeply researched philanthropy framework that is infused into the academic content educators are already teaching.
Learning to Give ...
educates youth about philanthropy, the civil society sector, and the importance of giving their time, talent and treasure for the common good (knowledge),
equips youth by encouraging philanthropic behavior and experience (skills), and,
empowers youth to take voluntary citizen action for the common good in their classrooms, lives and communities (behavior).
A Classrooom Model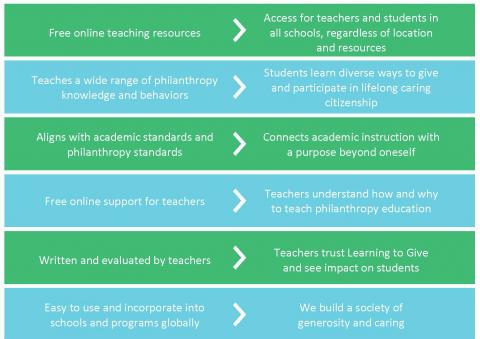 History of Learning to Give
Nurtured and piloted in Michigan, Learning to Give seeks to infuse this academic content into the core curriculum of national and international schools. Beginning in 1997, the Council of Michigan Foundations and a Steering Committee of thirteen collaborating leaders in education, volunteerism, and nonprofit leadership embarked on a unique effort to write, field test, implement and disseminate high quality K-12 curriculum lessons, units, and materials on philanthropy.
The Learning to Give curriculum contains both academic content about philanthropy and skill development activities which involve students in giving and serving their communities. Developed in coordination with experts in the fields of philanthropic studies, the nonprofit/civil society sector, and civic engagement, along with a group of 40 classroom teachers from diverse backgrounds, the International Philanthropy Curriculum Standards, and the Learning to Give Lessons were specifically designed to meet the need for intentionally teaching the world's youth the philanthropic traditions and beliefs of a civil society.
View the Philanthropy Curriculum Standards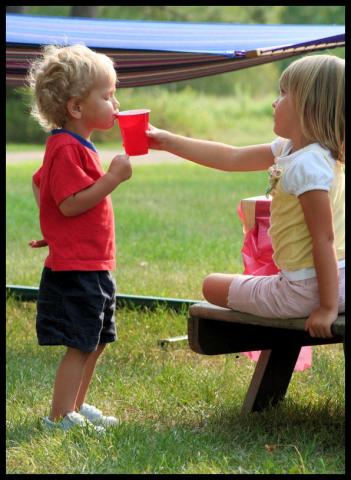 Quotes from Teachers
"For a child to feel a sense of worth, he or she must feel that he belongs and that his existence is meaningful. And just as family provides the framework from which that sense of worth develops, the child's formal education should include an understanding of the rights and responsibilities of individuals to the greater whole of society."
~ Elementary School Teacher
"What greater purpose does a middle school have than to help a child in transition find himself or herself. We have a responsibility to provide opportunities that allow students to feel needed in the larger community so they don't develop a sense of self in a vacuum."
~ Middle School Teacher
"We're living in a society where money has more power than God; where human life is worth less than someone's jacket. We must teach our children about tolerance, unselfishness, and about giving. We need to teach them that sometimes we need to compromise or give up something that would be good for us as an individual so that what we're choosing instead is good for all."
~ High School Teacher
"We also see that this philanthropy philosophy helps us talk to students about behavior, respect, caring, and 'doing the right thing' across the school day and school year. It is a hook, a language we can use to 'hang our hat on.'"
~ Principal
For further information, please contact Betsy Peterson, Director. bpeterson@learningtogive.org