Great things Happen in the Overlap: Making the Connection between Philanthropy Education, Project Based Learning, and Service-Learning
Guest Blog by Ryan Steuer, Executive Director at Magnify Learning
Philanthropy Education, Project Based Learning (PBL), and Service-Learning connect meaningfully to bring our students to the center of their learning as empowered learners who are engaged in their community and world. In this guest blog for Learning to Give, I propose these three avenues of learning are integrated via the below diagram. Philanthropy Education may be the overarching goal all educators have for their students, whether we state it outwardly or not. We each want our students to be strong and philanthropic citizens with knowledge and skills for lifelong engagement in civil society.
In essence, Philanthropy Education becomes a mindset we use to present meaningful learning opportunities to the "whole learner." With this mindset, we start our planning by exploring ways to help our students identify as stewards and change-makers who interact with the community in the context of their learning goals. Eventually, the question becomes: What strategies will best teach these important skills to my students?
The answer I've found often comes in the form of Project Based Learning (PBL) and Service-Learning. PBL provides the instructional model that blends standards-based rigor with the 21st Century Skills our students need to be college and career ready. Service-Learning is a strategy that puts students in leadership roles and takes the work into the community, which makes our work, and their work, more meaningful. In the following breakdown, I help you explore the top four common traits of Philanthropy Education, PBL, and Service-Learning.
Moving Minds and Hearts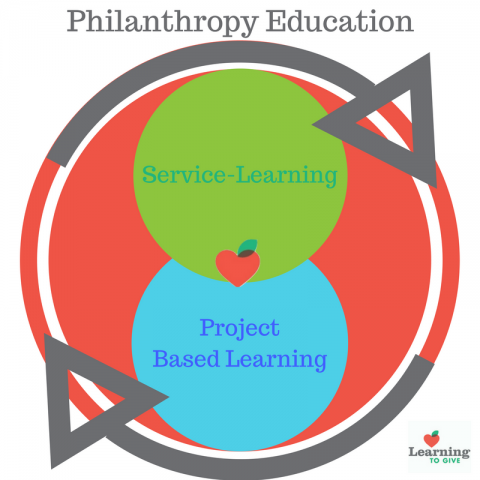 When we engage the mind and hearts of our learners as they take action to solve a real-world problem, we begin to change their world … and our world. Philanthropy Education moves beyond the requirement of service hours into the realm of equipping learners with tools, mindsets, and experiences to inspire their action and grow the next generation of philanthropists who give time, talent, or treasure and take action for the common good.
To help guide the work of Philanthropy Education, Learning to Give has developed philanthropic standards that show how we can ramp up from the beginning definitions of philanthropy to more robust conversations and activities around civil societies and nonprofits. Philanthropy Education conversations belong in all levels of education, K-12, because research shows students are four times more likely to volunteer if they are prodded by someone they respect. We can move the needle on philanthropy and civic engagement by providing a venue for learners to think and speak about important issues in society.
Authenticity
Authenticity goes beyond the scenario lesson that has students take on the role of a landscape architect. Authenticity demands we go one step further and actually install the new environmentally conscious landscaping on the school grounds or at the local senior center, adding a philanthropic purpose. While Project Based Learning can be implemented in a classroom, I contend truly great PBL happens when it overlaps with Service-Learning and betters the community. Service-Learning and PBL make a combination ripe with student engagement, which allows us to up the rigor of our classrooms.
21st Century Skills
Whether it's the 4Cs, workforce development, or soft skills, these 21st Century Skills are what students need to be successful in the next step of their journey beyond the classroom. Students practice 21st Century Skills when they communicate their learning through advocacy to the community. In the intersection of these empowering instructional models, students also practice collaboration and original problem solving in a meaningful context. We want to see students working together to engage local and global issues, and these three educational initiatives can help teach 21st Century Skills in very intentional ways. In my opinion, if we aren't taking the time to teach 21st Century Skills intentionally, then we can't expect our learners to display them.
Inspiring the Next Generation
Leaving a legacy for the next generation means creating experiences beyond the teacher's desk. Meaningful experiences in which students recognize their time and talent made a difference are those that empower and inspire youth for a lifetime. We need to challenge our students with questions like: What have the past generations done for you? What will you do for the next generation? How can you inspire the next generation to be stewards for your grandchildren?
Final Thoughts
We teachers entered the world of education to inspire the next generation of changemakers, not test-takers. Standardized tests are a reality in our world, but they don't have to be a limiting force of our work. With the worldview of philanthropy education and the instructional models of Project Based Learning and Service-Learning, we can return to inspiring hearts and minds.
How have you seen philanthropy education change your students and community? Find Learning to Give on Facebook, Twitter, or LinkedIn and tell them about it!
About the author:

Ryan Steuer believes our job as educators is to fill learners with passion to help those around them. Ryan believes Project Based Learning and Service Learning are the vehicles to stirring passion and mastering standards! After starting his career as an Industrial Engineer, Ryan brought his business background to 8th graders in Indianapolis, where he created a PBL school within a school. Now as the Executive Director of Magnify Learning, a nonprofit organization specializing in PBL professional development, Ryan shares his passion for student driven learning environments with teachers across the country.

Follow Ryan on Twitter: @ryansteuer @magnifylearning