Classroom lesson plans creatively infuse philanthropy into K-12 academic content and serve as a foundation for a student-centered approach. Click on the Search Lessons button at the top of the website page and filter by
grade level
subject area
content (academic and affective)
time of year
and more to find lessons to suit your goals.
You can also search by teaching standards. Select the set of standards you follow, and drill down on the benchmarks to find Learning to Give lessons that contain practice of that skill.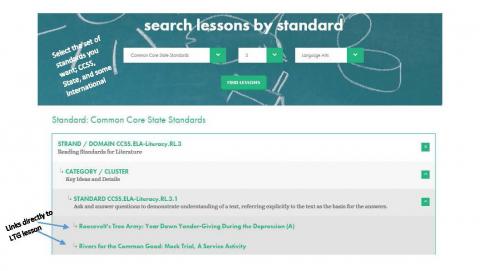 Search for lessons by what you already teach (ex., water, Constitution, or letter writing) or by an issue area or philanthropy theme (ex., environment, hunger, or kindness). Or enter the name of a local community resource as a starting point. The following graphic organizer can help you connect learning to community and brainstorm keywords to enter in the search engine.
Start with one of the Introduction to Philanthropy lessons (K-12) to build vocabulary and motivation to take action - a great way for a whole school to get started.
Disaster Preparation and Response Teaching Resources

: When a crisis hits, many people feel motivated to help. Plan an activity to help people in your community or world affected by a disaster or difficult time. Or, g

uide your students in preparing an emergency preparedness kit for themselves and others.
All our teacher-created lessons are aligned to state standards, including Common Core State Standards, and some international standards.
Lessons are organized by teaching units. Adapt and combine lessons to suit your learners and community. Althought each unit contains a service suggestion, for a greater impact on students, guide them, as age appropriate, to plan a unique service-learning project based on an investigation of issues, student interests, and community needs.
Our teaching resources include the following: