Each year, a goal of Learning to Give is to award thousands of dollars worth of mini-grants to teachers looking to connect their classroom to community through service-learning projects. Our stories are your stories! 
Learning to Give mini-grants provide the financial support teachers often need to facilitate philanthropy and service projects. We have mini-grants available now through a simple application. Click here for details. The Learning to Give team reviews every mini-grant application to identify those that spark a philanthropic mindset and encourage the students to not only participate, but have meaningful conversations about giving for the common good.  
Here are 
three 
mini-grant stories of 2016!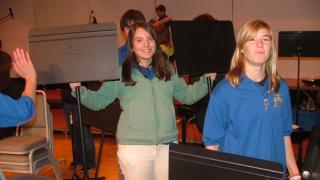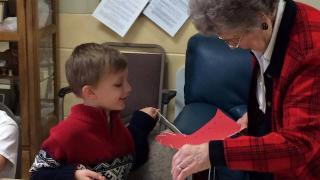 Story 1
 – Ms.
 Davis'
s
 seventh and eighth graders at Allen Middle School
 in North Carolina 
learned about empathy from
 Learning to Give's "
Center Stage - Focus on the Elderly
" 
lesson
.
With a few lesson adaptations (we encourage this!), the students decided on a craft and in-person project. The craft involved writing thoughts and ideas on linen paper and creating pillows to give to the elderly. The middle-school aged students also created a letter and a flyer to raise awareness about the importance of interacting with the elderly in the community. The project began with the students researching assisted living centers and contacting the directors to see if there was an interest and need for volunteers.  Through this project, the students learned communication skills for engaging with the elderly. They also learned "the importance of proof reading and editing their letters," said Ms. Davis. While in person, the students helped their elderly partners in their daily routines and recreation. Overall, the students benefitted from hearing the advice of their elders and in doing so, becoming more caring.  
The mini-grant funds were used for pillow supplies, stationery, and transportation.  
"Philanthropy education equips youth by encouraging charitable behavior," said Ms. Hart. "And it empowers them to take voluntary action for the common good in their communities." The students researched how wildlife and people coexist in their community. The class chose an organization and developed an intervention strategy to help persuade others to take up the cause of the organization using letter-writing for advocacy.  While at the Bluegrass Wildlife Preserve, students were able to experience and respond to environmental issues firsthand.  
The mini-grant funds were used to offset the costs of the trip to the Bluegrass Wildlife Preserve.  
Ms. Found's students planned, brainstormed, and executed a meaningful three-hour event filled with games and activities for children with intellectual and developmental disabilities. They played games such as kickball, Twister, and musical chairs. They also hosted craft activities for the children, including a Play Dough table and Popsicle stick artl.  
"This event was incredibly impactful for the students that attended, " said Ms. Found. Some of the children were overheard saying, "When are we going to do this again?" "Can we have another play-date?" and "That was so much fun!" The service-learning event made quite an impression on the students. The 9th and 10th graders learned empathy, improved communication skills for working with a disabled population, and observed the personal growth of these children firsthand.  
The mini-grant funds were used to support the travel costs, copies, posters, flyers, food, games, and the arts and crafts.  
Each story is a powerful testament to connecting with community as part of your curriculum. Learning to Give is here to support you – Contact us for more information, so we can help you connect your students to the community issues they care about through a service-learning project.