"Our building made service a priority because kids didn't care about 7
th
grade social studies."
– K-8 principal in Indiana
Get Started with a fun video!
What is Philanthropy? This energetic whiteboard video (featured above) defines, describes, and provides examples of philanthropy and service-learning perfect to educate and inspire any K-12 classroom.

Understanding Advocacy and Action: In this video we provide examples of the power of advocacy and action. By incorporating and infusing philanthropy education and service-learning into regular curriculum students learn there are many ways to make a difference; and that they have the strength and power to give time, talent, or treasure for the common good.

Connecting Skills and Interests to Community Needs: What are your interests and skills? These can be used in meeting community needs as you take action for the common good.

Stages of Service-Learning: Service-learning connects learning to needs in the community. Follow the steps in the process outlined here to make successful plans with your students.
Teach Kids that they Matter through Service!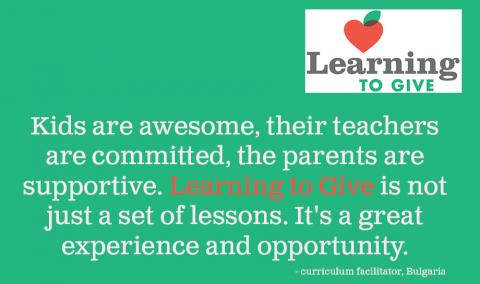 Teaching a Learning to Give lesson isn't an "add on." A variety of lessons connect language arts, social studies, and science to a purpose that resonates with students. Simply try one lesson and empower your kids as givers and community activists.
Looking for teacher stories and classroom service-learning project examples? Here's a bit of inspiration!
8 Ways to get started
1. Ease into Philanthropy Education with our TeachOne Initiative!
Each TeachOne one-session lesson is followed with a simple and powerful service project and reflection. These lessons spark meaningful discussions and service that centers on community building. TeachOne in your classroom or rally others in your building to TeachOne on the same day. Lessons are written by teachers to be adapted K-12 to fit your students' interests and abilities. TeachOne for Back to School, GivingTuesday, Martin Luther King, Jr. Day, and Earth Day!
2. Search for Lessons and Resources:
Search for LESSONS by entering keywords (such as water, letter writing, The Lorax, or hunger) and grade level.
Or start your search with the Common Core State Standard you want to address.
You may also search our RESOURCES for papers, literature guides, video discussions, and more.

3. Introduce the Vocabulary of Giving
Teach an Introduction to Philanthropy lesson to build vocabulary and motivation to take action -- a great way for a whole school to get started.

4. Plan a Year of Giving
Put philanthropy instruction into your calendar with service events by month such as International Day of Peace, Martin Luther King, Jr, Day, or Earth Day.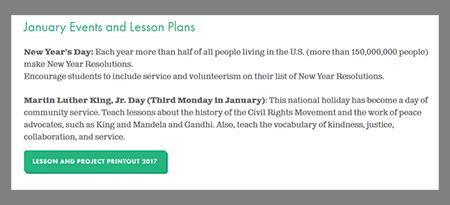 5. What Do Your Students Care About?
Search these toolkits by ISSUE AREA for lesson plans and project ideas, such as Water, Kindness, Veterans, and Arts. Start with the Blue Sky Envisioning Activity to get to know your students and help them recognize what they care about. Use the Map Your Heartbreak activity to match hobbies with caring.

6. Educator Training Online
Prepare yourself with some of our 14 Educator Mini-Courses in the Fisher Online Institute. Learn from your desktop in under 45 minutes about how to teach philanthropy education or reflection, the history and role of philanthropy and nonprofits, or the strategy of service-learning. Upon completion, earn a certificate for professional development.
Sample Courses:
Infuse Learning to Give into Your Teaching
Using Spoken Word Poetry for Justice
The Role of Philanthropy in Democracy
7. Video Resources
Follow Learning to Give's YouTube channel for a variety of videos about philanthropy and philanthropy education, including the four White Board videos above, and use our Film Discussion Guides as engaging lesson starters.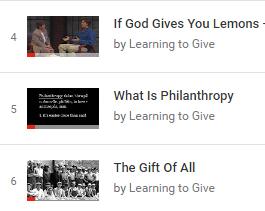 8. Join a Community of Educators
The LTG Collaborative is a place for you to connect with other educators from around the U.S. to share ideas, ask questions, discuss topics, and learn about special opportunities. This group meets 8-10 times per year via webinar. You may join from your computer, tablet or phone! You must be a Learning to Give account holder to join this group. If you're interested, visit the LTG Collaborative page and sign-up to join!
Photo credit top of page: Walking to School by Annie and Tim is licensed under CC BY 2.0