Literacy Service-Learning Toolkit
Keywords:
Literature
Philanthropic Literature
Service Learning
Service Plan
Service Project
YGFGservice
Youth Advisory Committee
Service-Learning Project Ideas Related to Literacy: This list of service project ideas and resources are designed to spark ideas for actions related to increasing literacy and using literature and writing to advocate for what we care about.
Lesson Plans
The best service-learning projects are related to academic learning, involve youth voice and choice, address a researched need, and work with local resources.
Teach Learning to Give lessons to connect service with academic subjects and build philanthropy knowledge and skills. These lesson plans teach about the issues, why we should care and act, and the skills and knowledge of social good, such as writing, advocacy, history, fundraising, and careers.
Literature and Literacy Lesson Plans
Additional Learning to Give Resources
View these Learning to Give online literature guides to combine selected literature with thought-provoking activities that teach children about giving and civic engagement. Whether you are a parent, youth leader, teacher, or mentor, you can use shared reading experiences to inform and inspire children to act for the common good. Picture books and teen novels are available.
Types of Service Projects:
Service action may be direct, indirect, advocacy, research, or a combination of these.
Examples: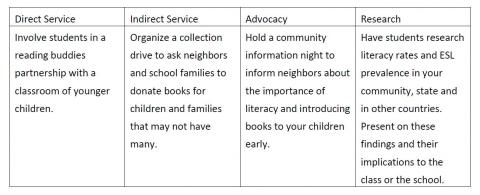 Project Ideas
Host a read-a-thon
Encourage literacy by holding a read-a-thon book experience, inviting parents and youth from the neighborhood to come and hear books read to them by young people. Solicit new or gently used books from the community to give away to the children who attend. Photo Credit: Story time group by Aaron Cutler Memorial Library is licensed under CC by 4.0
---
Teach others to read
Volunteer at a community literacy agency to teach their clients basic reading and literacy skills. Contact the agency to find out their needs. It may be best to work with youth or ESL students.
---
Facilitate a puppet show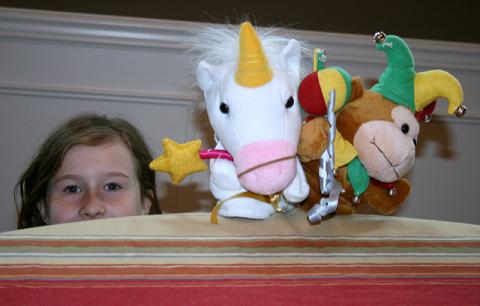 Perform a puppet show at a library or local community center. The puppets may perform a story from a book or an original humorous show that promotes reading. Youth could write their own stories focused on reading and literacy. Photo Credit: Puppet Show! by Jeff Sandquist is licensed under CC by 4.0
---
Visit a shelter or school
Young people could read aloud to children at an at-risk school or shelter to help them develop a love of reading. Contact shelters and schools in advance to coordinate.
---
More Ideas:
Hold a literacy game night after hours at the community library.
Host a battle of the books event in the community have a contest based on trivia from pre-selected books.
Encourage youth to join summer reading programs. Many libraries offer this each summer.
Have youth write and perform plays or skits inspired by books that they've read. They can perform for the community or younger classes.
Design and create literacy flash cards to help younger children read. Distribute them to needy schools or shelters.
Start a reading competition with creative goals and prizes. This is a great way to encourage literacy and reading.
Create buttons or pins which promote literacy and reading.
Invite a local young adult or children's author to a community event. Have them talk about their experienecs as a reader and writer. Photo Credit: Everyone playing a board game by Toby Bradbury is licensed under CC by 4.0

---

Planning a Service-Learning Project

This resource provides guidance and questions for each step of the process.

GUIDE TO PLANNING SERVICE-LEARNING

This chart helps youth prepare for who does what in the service-learning process.

CHART FOR PLANNING SERVICE-LEARNING

---

Potential Community Partners
Find partners in your community who will work with youth on literacy projects. Engage youth in investigating the issue and calling the partners. Connecting with a community resource makes the project more meaningful and impactful.
Libraries
Local bookstores
Local writers
Universities, colleges, or other schools
Homeless shelters
Daycares
Community centers
Local literacy, ESL and educational nonprofit organizations
Other Resources for Investigation and Communication
This is a list of resources that may expand the learning around the issue area and involve youth in identifying needs and solutions.
Go to generationOn.org for a full menu of project plans related to literacy. See a list of great projects for Kids and for Teens.
This organization is one of the leading literacy promotion entities in the country. Dolly's vision "was to foster a love of reading among her county's preschool children and their families by providing them with the gift of a specially selected book each month" (Imagination Library, 2016). The program has now expanded to over 1000 communities and it can be replicated all over the world.
This nonprofit provides background information on a variety of issues that interest youth, as well as ideas for taking action to promote resolution for issues. Join with other young people to make a difference. They have a particular category on education which has many ideas on literacy promotion.
Connect youth around the world with virtual pen pals. This would be a great way to practice reading and writing skills.
This organization provides an extensive list of resources on literacy-based organizations. There are over 20 links to organizations doing amazing work.
Create word clouds to visually express lots of ideas in a small space. Words that are used most display largest. Wordle is a great tool for literacy and especially word identification.
---
Bibliography
National Adult Literacy Agency. "Adult Literacy Worksheets Recommended by NALA" Nala.ie, n.d. Web.
Prentice-Hall & Teacher Vision. "Popular Reading Comprehension Resources, Grades 9-12" Teachervision.com, 2016. Web.
Roy the Zebra. "Printable Literacy Worksheets" Roythezebra.com, 2000. Web.
Spelling Words Well. "Printable Phonies Worksheets" Spelling-words-well.com, 2013. Web.