Veterans and People Who Serve
Keywords:
Community
Service Project
Service Learning
Service Plan
Veteran's Day
YGFGservice
Youth Advisory Committee
Get to know the stories of people who represent a life of service. They may be veterans who chose to serve in the military or elderly friends who have served as activists or volunteers for different issues. Communities are stronger when people take action and work together for a common purpose. Young people can listen to their stories, show respect, and practice their own service - giving their time and building ties and trust for the common good. These activities, project ideas, and community resources prompt discussions and service that build respect for people of different roles, types of service, and generations.
This toolkit guides youth, educators, group leaders, families, and community groups as they investigate the issue of veterans, elderly, and people who represent a life of service and prepare to take action.
Contents:
Definitions
Key questions
Background
Lessons and activities
Resources in your community
Project ideas and guide to service-learning
Quotes
---
Community Heroes
Our world is shaped by those who came before us and took action. Those individuals have made major impacts on our community. From building the neighborhood park to voting to pass a new law, the individuals who came before us have made a tremendous impact on how we live our daily lives. Youth have the ability to give back to those who served before them!
"I think a hero is really any person intent on making this a better place for all people." – Maya Angelou
Share this example of action.
Become inspired by this pep talk from Kid President where he acknowledges how amazing the heroes in our lives are! Take the time to watch this video and then send it to a hero in your life to show them how much you appreciate them!
Reflection: What are some ways people make a difference?
---
Definitions and Key Questions
See the handout below for Vocabulary and Key Questions related to veterans and people who serve
Definitions:
As young people build knowledge and passion for taking action, they can look up vocabulary and read more about the issues and needs. Here are some of the relevant vocabulary words.
Intergenerational
Hero
Senior Citizen
First Responder
Veteran
Key Questions for Learning and Service:
These key questions may guide investigation or generate inquiry about other areas of interest. The best service-learning experiences follow the passions of youth and local concerns. Here are some sample questions:
Who are some people in your community who serve others (ex: a veteran, police officer, senior citizen, a volunteer)? How do you feel about the work they do for othes? What would you like to learn from them?
How can we learn from the experiences of the older generation in our community? Why is it important to learn from them?
Where do you see opportunities to support first responders or essential workers in your community? What can you do to help this growth?
What kinds of service do you think local senior citizens have been involved in? What can you do to listen and show gratitude for their service?
---
Background Information
Share these background resources to inspire and inform youth about serving those who served us.
---
Lesson Plans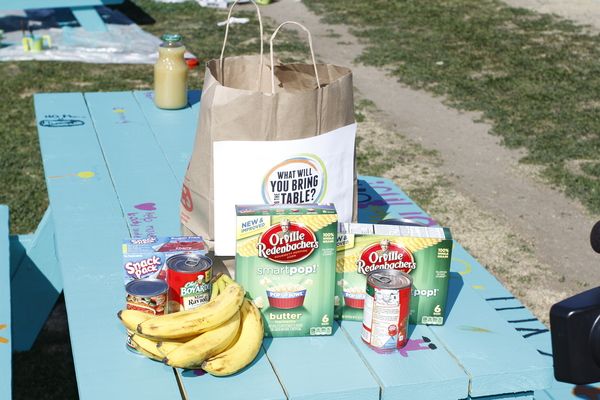 Learning to Give has hundreds of lesson plans to inspire and inform youth action. Search our related lesson plans for topics that fit your interests and age of your kids. Narrow your search with keywords like veterans, military, elderly, retired, or helpers. Here are some sample lesson plans:
Music of the Civil Rights Era - After learning about the impact of music on a community, young people may interview people living in a retirement community (or the staff) about favorite music and create a play list to brighten the mind and spirit of someone.
Living History: An Intergenerational Philanthropy Project - Youth volunteer their time and build community relationships with senior friends at the care facility and at the local museum.
Oral History Project - Through this storytelling activity, children develop respect and empathy for others as they engage in the philanthropic act of generous listening.
For Love of Country - This lesson describes the military's role in our country and highlights service to country as one of the most sacrificial forms of "voluntary action intended for the common good."
---
Community Resources
For meaningful service-learning projects with long-lasting impact, connect youth to people and nonprofit organizations in the local community related to their service area of interest. This is an opportunity for a field trip (may be virtual) or for an expert to teach about issues and what is already being done. Youth may write, call, or interview experts about needs and partnerships.
Libraries
Senior day programs
Veterans Affairs office
Veterans of Foreign Wars (VFW)
American Legion
Senior living facilities or centers
Local police stations
Fire stations
Local military personnel
ROTC programs
---
​Project Ideas
There are four types of service. The ideas below are grouped by these types. The best service-learning experiences follow the passions of youth and local concerns. These are provided to start conversations and ideas.

This overview Guide for Planning Service-Learning describes each step of the process and actions to take.
This blank chart for Planning Service-Learning helps youth prepare for who does what for maximum service and learning impact
---
Visit a local nursing home, retirement community, or senior center for the purpose of reading to, interviewing, or developing intergenerational relationships with elderly residents. Service Sparks: Joy of Reading
Invite a veteran to your classroom or group meeting to learn about their service and travels. Ask what needs they have observed.
Volunteer to teach computer or Internet skills at the public library or senior center.
Arrange regular class visits to a retirement home. Read to them or present short programs. Organize a game night. Learn to knit.
Collect personal products to give to retired, injured or ill veterans at the Veterans' Hospital or Home. Schedule a visit to bring in the donations and spend time listening to their stories. Share talents in a show to entertain the veterans.

---
Make "Black-Out Boxes" for seniors. Research what a household might need when the lights go out and fill a decorated box with appropriate items (batteries, candles, matches, a phone number form, water bottles, snacks).
Make repairs or do work around the home of an elderly person in the neighborhood.
Host a breakfast to benefit local heroes, veterans or military members. The proceeds raised would go to organizations that directly benefit these individuals.
Write kind notes to people who provide a regular service. Be specific and respectful in the letters and let the people know that they are appreciated for what they do. This may include a crossing guard, a school volunteer, a letter carrier, the receptionist at the orthodontist office, a choir or youth leader, or the principal at your school. Service Sparks: Gratitude Pen Pals
Prepare care packages or make greeting cards for soldiers.
Make homemade or nicely decorated picture frames for seniors to display pictures of their families. Youth could partner with younger children or seniors to design and create these picture frames.
---
Research the acts of local community heroes, people who have taken generous personal action for the sake of the community. Write their stories and publish them in a book of local heroes to present to the local library or school media center. Create a Wall of Heroes with the information.
Hold a community forum night to inform neighbors about the needs of seniors.
Hold a community information night to encourage dialogue with local police, firefighters, first responders, and other community helpers.
---
Investigate the skills and training required to have a career as a different community helper.
Invite community helpers or military personnel to have a discussion for your class. Encourage youth to ask them questions.
Research the history of your community. Identify individuals who had a major impact on changes within your community.
Research how to become a firefighter, police officer, or other first responders.
---
Literature Guides
Uncle Jed's Barbershop literature guide provides before, during, and after-reading discussion questions. Uncle Jed is a model of a loving, supporting family member. This book is a discussion starter about the importance of families and communities.
Eyes that Kiss in the Corner literature guide provides before, during, and after-reading discussion questions. Through poetic words and beautiful illustrations, a young Asian girl celebrates what makes her unique. This book is a gentle story about self-love and the power of family in shaping our identity.
Planting Stories literature guide provides before, during, and after-reading discussion questions. Choose from activities and discussion questions to understand the importance of our maintaining cultural stories and the power of listening to and respecting the diverse stories our communities.
Circles All Around Us literature guide provides before, during, and after-reading discussion questions. Choose from activities and discussion questions to explore the power of community and the difference we can make when we have the courage to open ourselves up to others.
---
Quotes
Ways to use quotes with youth: Use it to spark conversation. Write about its meaning or do research on the person or topic. Represent the quote visually and display in social media. Tell whether you agree or disagree with the quote. Rewrite it to speak for you.
"To become a better you, remember to be grateful to people who have contributed to making you who you are today." ― Israelmore Ayivor
"Let's all focus on the people who are helping, and be one of them." ― Peta Kelly
"We respect our elders. There is wisdom that comes from experience, and I am not going to stop learning from wise counsel." ― Marcia Fudge
"Real heroes don't wear capes. Real superheroes wear uniforms and badges and stethoscopes! Real superheroes are members of our military, law enforcement, and first responders. Pretend superheroes wear capes!" ― Dean Cain