Humans and the Environment Toolkit
Keywords:
Advocacy
Environment
Environmental Stewardship
Nature
Pollution
Water
Water Crisis
YGFGservice
Youth Advisory Committee
Being outside, caring for plants and animals, and recycling are often a young person's first experience with environmental stewardship. Young people looking to a sustainable future may learn about the wonders of nature, aging water pipes, environmental contamination, plastics in the ocean, overuse of natural resources, and air pollution. This toolkit shares resources to learn, connect, and take action now as environmental stewards to assure a sustainable future in harmony with the gifts of nature.

This toolkit guides youth, educators, group leaders, families, and community groups as they investigate the issue of humans interacting with the environment and prepare to take action. Contents:
Current story 
Definitions
Key questions
Background
Lessons and activities
Resources in your community
Project ideas and guide to service-learning
Quotes
---
Climate Action and Environmental Stewardship
The gift we give back to the generous Earth is our care and advocacy for its health. We can pay attention to its beauty and act as stewards of the Earth every day. Each young person has a voice, heart, and hands to take big and small actions for a meaningful purpose. 
"We cannot continue to pollute the atmosphere, poison the ocean and exhaust the land. There isn't any more available."     - Stephen Hawking, Physicist & Author
Share this example of youth action.
Greta Thunberg, born in 2003 in Sweden, is a world-famous environmental activist. She speaks clearly and passionately to political leaders demanding stronger action to protect and restore natural resources. She has autism, which she says at one time limited her but now is her superpower. This video she produced states that we must protect and preserve nature and stop dependence on fossil fuels because we are in a climate crisis. 
---
Definitions and Key Questions
See the handout below for Vocabulary and Key Questions related to the environment.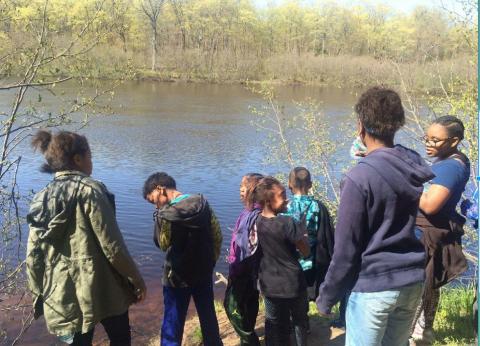 Definitions: 
As young people build knowledge and passion for environmental work, they can look up vocabulary and read more about the issues and needs. Here are some of the relevant vocabulary words.
Biodiversity
Climate Change
Environmental Stewardship
Sustainability 
Key Questions for Learning and Service:
These key questions may guide investigation or generate inquiry about other areas of interest. The best service-learning experiences follow the passions of youth and local concerns. Here are some sample questions:
What are the environmental issues you observe in your own communities?
What resources, like a local water treatment plant or nature preserve, spark interest in what our community does for us and what we can do for our community?
How do you use your local natural resources?
---
Background Information
Share these background resources to inspire and inform youth about environmental issues and actions. 
Lesson Plans
Learning to Give has hundreds of lesson plans to inspire and inform youth action. Search our full list of environmental lesson plans for topics that fit your interests and age of your kids. Narrow your search with keywords like recycling, stewardship, water, gardening, beach, or environmental justice. Here are some sample lesson plans:
---
Community Resources
For meaningful service-learning projects with long-lasting impact, connect youth to people and nonprofit organizations and natural resources in the local community related to their environmental area of interest. This is an opportunity for a field trip (may be virtual) or for an expert to teach about issues and what is already being done. Youth may write, call, or interview experts about needs and partnerships. 
Ask youth if they have family members whose work is related to the environment.
Explore the unique assets in your community first. Are there rivers, forests, a nature center, or a landfill? 
National, state, or county park
Friends of local parks foundation
Water treatment plant or recycling center
Animal shelter
Local farmers
Nature center
Environmental or watershed action council
Parks and recreation department
4-H club
Sierra Club
---
​Project Ideas 
There are four types of service. The ideas below are grouped by these types. The best service-learning experiences follow the passions of youth and local concerns. These are provided to start conversations and ideas. 
This overview Guide for Planning Service-Learning describes each step of the process and actions to take.
This blank chart for Planning Service-Learning helps youth prepare for who does what for maximum service and learning impact
---
flowers
. 
Build a bird habitat or house to attract a specific bird species. 
Plant trees to offset your paper usage. See Tree-Plenish to join a national effort with event-planning tools.
Perform an energy audit of a school or home to help people conserve energy.
Give new life and purpose to a neglected area. Plant native plants, trees, bushes, or flowers. Weed out invasive species and beautify by weeding, pruning, and raking. Enlist the ownership of youth, families, and the community with special clean-up days organized by youth.
---
Simple Safe Service Guide: Reduce Plastics
Interview the county water commission about storm drains. Share information about "no dumping; drains to river" on storm drains or volunteer for the community rain barrel program.
Set up a recycle station where there isn't one following the community recycling practices and requirements.
Join and support your school's "green team" to organize projects and make students aware of healthy habits and actions they can take that sustain the environment.
---
Write, produce, and share an informational documentary about an environmental crisis and suggest action communities can take locally.
What does your community need related to water quality? Interview experts, take surveys, and read about how the community treats its water. 
Investigate and share information about permeable and nonporous surfaces and how they impact runoff.
Research the problem of plastics, then investigate and propose solutions. Try our Tote Challenge lesson and activity to make reusable bags from old T-shirts.
---
Learn scientific testing methods of water and soil; analyze and share data collected with other youth and leaders in the watershed.
Research the sources and effects of lead on children and adults. Teach people the risks and how to counteract it. Ask the city for a report on lead levels for families or seniors in your community. Share the information with affected families. 
---
Literature Guides
The Lorax guide provides before, during, and after-reading discussion questions. This classic children's tale is a timeless call to protect and preserve our natural resources. The Lorax explores the interconnected world of nature and the possible damage if we don't act responsibly. This book demonstrates the all-too-real consequences of careless consumption and greed. The reader is challenged to develop empathy for the animals and plants who share our planet and stand up for the voiceless. 
Seeds of Change
 literature guide provides discussion questions for this true story of Nobel Peace Prize winner Wangari Mathaai is an inspiring tale of environmental activism and the power each one of us has to help protect our world.
---
Quotes
Ways to use quotes with youth: Use it to spark conversation. Write about its meaning or do research on the person or topic. Represent the quote visually and display in social media. Tell whether you agree or disagree with the quote. Rewrite it to speak for you. 
"By polluting the oceans, not mitigating CO2 emissions and destroying our biodiversity, we are killing our planet. Let us face it, there is no planet B."   - Emmanuel Macron, President of France
"Climate change knows no borders. It will not stop before the Pacific Islands and the whole of the international community here has to shoulder a responsibility to bring about sustainable development."   - Angela Merkel, Chancellor of Germany
"Climate change is the single greatest threat to a sustainable future but, at the same time, addressing the climate challenge presents a golden opportunity to promote prosperity, security and a brighter future for all."   - Ban Ki-Moon, Former Secretary-General of UN
"What you do makes a difference, and you have to decide what kind of difference you want to make."    - Dr Jane Goodall, Scientist & Activist
"Adults keep saying we owe it to the young people, to give them hope, but I don't want your hope. I don't want you to be hopeful. I want you to panic. I want you to feel the fear I feel every day. I want you to act. I want you to act as you would in a crisis. I want you to act as if the house is on fire, because it is."   - Greta Thunberg, 17 year-old Swedish Activist