Disaster Preparation and Response Toolkit
Keywords:
Disaster: Human Made
Disaster: Human-Made
Disaster: Natural
Fundraising
Time/Talent/Treasure
Ideas, lessons, and information to guide students and families as they address the issues of disaster preparedness and relief.
 Photo Credit: Wildfire by Daniel Stark is licensed under CC BY 2.0
Coronavirus Update:
What can you know and do about the global health crisis surrounding the COVID-19 virus? Staying home and following safety directions for the good of all is our civic duty.
Civics Lesson: The government and healthcare industries are watching the progression of this virus very carefully, and they have the wellbeing of the community, state, and country as first priority. You can trust the information and recommendations provided by the World Health Organizaion and federal government's Centers for Disease Control and Prevention (CDC). Keeping people informed is part of the responsibility of the government and nonprofit sectors. Your civic responsibility to to act in a way that is best for the common good. It is important to follow directions for the good of all.
What can you do?
Continue learning about things we can do. Learning to Give provides free resources that teach what youth need to know and be able to do related to our role as generous citizens. New relevant lessons posted here daily - TeachOne
Talk with children with honesty and a neutral tone. Share the latest information and what it means to your family and community. Talking about feelings makes them more manageable.
Talk to your children about online safety. They are online more than ever and need guidance from you. Follow these tips from the U.S. Department of Justice.
Find ways to take generous action. Harvard's Dr. Richard Weissbourd saying, we are "more distressed when we feel helpless and passive, and more comfortable when we are taking action." In this time of uncertainty, it is good to find ways to take action - no matter how small.
Follow directions from the government and healthcare. Listen to instructions about handwashing, wearing a mask, coming in contact with others, and travel. Listen to the source for the latest information about how to stay safe.
Spread accurate information and cite your source. It is okay to spread information if it is true and will help others, but link your message back to a reliable source. Messages of encouragement are always welcome.
Don't buy more than you need of products that everyone needs. Depleting stores of supplies isn't a solution for the common good. Plan shopping trips for what you need for the next week or two. Many workers are keeping stores open and trucks moving. Please respect their efforts and thank them if you are able.
Stay healthy so you can fight illness if you are exposed. Eating healthy food, exercising, and staying healthy will help you fight off COVID-19 if you are exposed.
Make a plan. With your family and community, decide what you will do collectively to stay positive and helpful. Make plans for communication, helping others get food, and sharing positive messages. Make plans for how will you shop for food or take care of routine services. Talk about how to help elderly people who are lonely and confined at home to be safe. Look into local policies and resources.
Be part of the community by following directions and sharing accurate information. Don't react to drama or share false information. Stay calm and informed.
Responding to a Disaster or Crisis; Making a Plan in advance
When disaster strikes, whether caused by nature or humans, it is a time of trauma for the victims. Because we empathize with the victims, disasters bring out the humanitarian spirit of individuals and communities. The resources here provide opportunities to discuss our response to disaster and explore actions that young people can take before and after disaster strikes.
Disaster Relief Lesson Plans
The best service-learning projects are related to classroom instruction, involve youth voice and choice, address a researched need, and work with local resources.
Teach Learning to Give lessons to connect service with academic subjects and build philanthropy knowledge and skills. These lesson plans teach about the issues, why we should care and act, and the skills and knowledge of social good, such as writing, advocacy, history, fundraising, and careers.
Types of Service Projects:
Service action may be direct, indirect, advocacy, research, or a combination of these.
Examples: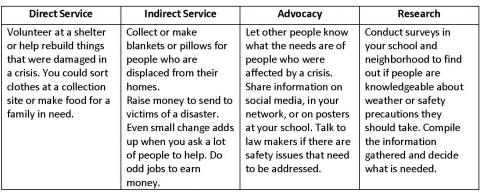 Project Ideas
Raise Funds through Research and Art
Read about Ms. Fisk's project
to help the animals impacted by the Australian wildfires.
Write Words of Encouragement to Victims of a Disaster
A disaster can claim the lives of families, residents, devastate homes, or interrupt the supply of basic needs. A frightening event may rob children of a sense of security. Learning to Give encourages young people to share their time and talent in a unique project with many ties to learning--through words and pictures of encouragement sent directly to an aid agency in the area of the disaster to be distributed to children who need moral support.
Activity Suggestion: Let young people in the area know that your hearts and kind wishes are with them in support and encouragement:
write a letter that says you care,
write one word of hope attached to a piece of art. (Conduct a little research in the history of the area, learn about the culture of the people affected, learn a few words in their language),
write a poem, or
draw a picture.
Put these creative wishes in an envelope and send them to the aid agency to be distributed to children or families. This is a creative way to share a little hope and let them know that people around the world are thinking of them. The Disaster Relief lesson plans below empower youth to explore motivations and creative ways for giving treasure.
Note: About a month after a disaster, the most valuable help from a young person may be moral support. For example, a school in Atlanta was matched with a school in Japan after the tsunami. The children learned to write some Japanese characters for words such as "cheer up" "How are you?" "What is your name?" They sent cards with pictures and messages to Japanese children attending school in a shelter. The cards were very much appreciated. Prepare youth that they may not get a response. The recipients are busy and overwhelmed and may not have resources to respond.
More project ideas from Learning to Give's service-learning partner generationOn.org: Emergency prep and response projects for Kids and for Teens
Provide Help Before Disaster Strikes
How can we give our help before the disaster strikes? Some questions for youth to explore in their service-learning project:
What are the potential disasters in your area?
What are other disasters in other areas (geography and people)?
How can your family prepare for the potential disaster?
What are the needs in your community to prepare for disasters?
Are there persecuted populations/potential victims who would benefit from advocacy?
How can you help others prepare (information, kits, physical help)?

Activity Suggestion: Plan ahead for a Disaster: Create a Family or Individual Plan for your family or others in the community.
Before you get started on building a disaster kit it is important to understand what disasters you need to prepare for and how to create a plan for your family or another group in need. Follow the link to understand why disaster preparedness is so important, what disasters you are most vulnerable to, and how you can begin the process to plan and prepare for future disasters.
Now it's time to create a plan! Follow the link to begin building your plan.

Be Prepared: Build a Disaster Preparedness Kit
Follow the links below to begin building the kit that is right for you or your family.
Ready.gov
Red Cross
More Ideas:
Make repairs or do yardwork for a family that experienced a loss.
Organize a neighborhood event and invite people who were affected by a disaster. Ask people to bring items and food to donate.
Participate in a Walk-a-Thon or other fundraiser to raise awareness and money for an agency that supports people who have experienced a disaster.
Make fleece blankets (or pillows) for children who have experienced a loss. A blanket may provide warmth or be used as a comfort item.
Collect toiletries, such as toothpaste, soap, socks, and snacks for families.
Write letters to show support for laws that help people recover from disasters.
---
Planning a Service-Learning Project
This resource provides guidance and questions for each step of the process.
GUIDE TO PLANNING SERVICE-LEARNING
This chart helps youth prepare for who does what in the service-learning process.
CHART FOR PLANNING SERVICE-LEARNING
---
Potential Community Partners and Resources for Investigation and Service
This is a list of online resources that may expand the learning around the issue area and involve youth in identifying needs and solutions.
Red Cross
Farm Services Agency (FSA)
Federal Emergency Management Agency (FEMA)
United Nations (UN)
National Hurricane Center (NOAA)
United States Geological Survey (USGS)
National Aeronautics Space Administration (NASA)
International Strategy for Disaster Reduction (ISDR)
Pacific Disaster Center (PDC)
National Center for Environmental Health (NCEH)
Center for Disease Control and Prevention (CDCP)
National Center for Infectious Diseases (NCID)
World Health Organization (WHO)
Natural Disaster Relief and Recovery Arrangements (NDRRA)
International City/County Management Association (ICMA)
Red Cross (ICRC), the International Federation of Red Cross and Red Crescent Societies (IFRC)