Global Issues Service-Learning Toolkit
Keywords:
Global Community
Global Issues
Justice
Peace
Service Project
Service Learning
Service Plan
YGFGservice
Youth Advisory Committee
Service-Learning Project Ideas Related to Global Issues: This list of service project ideas and resources are designed to spark ideas for actions related to our role in the global community, including justice, refugees, world poverty, and access to education.
Lesson Plans
The best service-learning projects are related to classroom instruction, involve student voice and choice, address a researched need, and work with local resources.
Teach Learning to Give lessons to connect service with academic subjects and build philanthropy knowledge and skills. These lesson plans teach about the issues, why we should care and act, and the skills and knowledge of social good, such as writing, advocacy, history, fundraising, and careers.
Types of Service Projects
Student action may be direct, indirect, advocacy, research, or a combination of these.
Examples:

Project Ideas
Adopt a Sustainable Development Goal
The United Nations outlined 17 major issues that we as a world need to address over 15 years of attention and action. Which goal speaks to your heart? Learn about the issue, plan action, and get others involved.
Create workbooks
Have your students create or fundraise for workbooks for refugee children in your community. These workbooks could have worksheets on literacy, math, American history, science and other applicable information. Contact local agencies to inquire about distribution and their needs. Photo Credit: Learning Math by Katherine Clark is licensed under CC by 4.0
---
Community yardsale
Coordinate with your students and the community to do a huge yard sale event. Ask for donations from community members, advertise and use the proceeds from the yard sale to support international nonprofit organizations that work to increase access to education, justice and economic opportunities.
---
Trick-or-Treat for UNICEF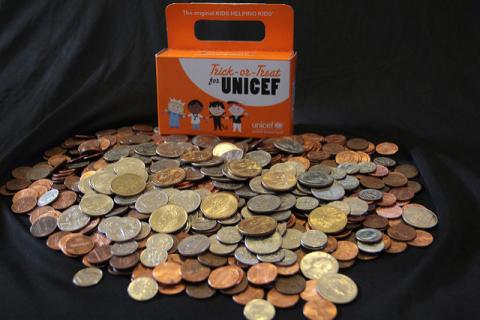 Around the time of Halloween, have your students get involved with Trick-or-Treat for UNICEF. This is a well-known and easy fundraiser for the fall. Kids ask for small donations before or during Halloween. The proceeds go to support healthcare, clean water, and nutrition for children all over the world. Photo Credit: Trick-or-Treat for UNICEF by Trisha is licensed under CC by 4.0
---
Microfinance
Teach your students about the principles and practice of microfinance. This mini-loan system helps individuals all over the world become more economically efficient. KIVA is an excellent resource to teach your students about this practice and how it's helping people.
---
More Ideas:
Host a clothing drive for refugee children and those abroad.
Write letters to politicians urging them to support policies which help refugees.
Watch documentaries about global poverty, access to education and justice in developing countries. Have a discussion with your students.
Encourage your students to buy from fair-trade and ethically minded companies that help various global causes. Bead for Life, Global Goods Partners, and National Geographic are good places to start.
Coordinate an event to discuss global issues for your community.
Have your students research current events on the refugee crisis, global access to education, justice and poverty.
Do a poverty simulation with your students so they can understand the issues.

Find international penpals for your students they can learn firsthand about global issues. Photo Credit: 100 years International Women's Day, day of solidarity with women by Jankie is licensed under CC by 4.0

---

Potential Community Partners
​​Find partners in your community who will work with your students on global issues projects. Engage the students in investigating the issue and calling the partners. Connecting with a community resource makes the project more meaningful and impactful.
Local refugee organizations and families
Churches
Universities and colleges
UNICEF
Amnesty International
Community advocates
Immigrant organizations and families
Other Resources for Investigation and Communication
This is a list of resources that may expand the learning around the issue area and involve the students in identifying needs and solutions.
Amnesty International is dedicated to ending abuses of human rights all over the world. Students can view issues by country, learn more about the justice that AI has achieved, and there are many ways to get involved.
This organization is dedicated to recognizing and connecting social entrepreneurs. There are dozens of profiles of individuals that are doing amazing work all over the world. This would be an excellent resource for a research project on global issues.
This nonprofit provides background information on a variety of issues that interest youth, as well as ideas for taking action to promote resolution for issues. Join with other young people to make a difference.
Connect your students with other students around the world with virtual pen pals.
The link above contains infographics and statistics related to refugees. The staggering numbers would help students gain more perspective on the issues.
This organization is dedicated to helping all of the world's children have a fair chance at success. They have programs dedicated to health, protection, education, gender equality and much more. This is an excellent resource for students to research.