Humans and the Environment
Keywords:
Advocacy
Environment
Environmental Stewardship
Nature
Pollution
Water
Water Crisis
YGFGservice
Youth Advisory Committee
Being outside, caring for plants and animals, and recycling are often a young person's first experience with environmental stewardship. Young people looking to a sustainable future may feel alarm about aging water pipes, environmental contamination, plastics in the ocean, overuse of natural resources, and air pollution. This toolkit shares resources to learn, connect, and take action now as environmental stewards and climate activities to assure a sustainable future in harmony with the gifts of nature.
This toolkit guides youth, educators, group leaders, families, and community groups as they investigate the issue of humans interacting with the environment and prepare to take action. Look here for definitions and background on the issue, community connections who can serve as experts and allies, key questions and conversation starters, lessons and activities, project ideas to get youth voice started, and planning guides.
Climate Action and Environmental Stewardship
"One can see from space how the human race has changed the Earth. Nearly all of the available land has been cleared of forest and is now used for agriculture or urban development. The polar icecaps are shrinking and the desert areas are increasing. At night, the Earth is no longer dark, but large areas are lit up. All of this is evidence that human exploitation of the planet is reaching a critical limit. But human demands and expectations are ever-increasing. We cannot continue to pollute the atmosphere, poison the ocean and exhaust the land. There isn't any more available." - Stephen Hawking, Physicist & Author
Greta Thunberg, born in 2003 in Sweden, is a world famous environmental activist. She speaks clearly and passionately to political leaders demanding stronger action to protect and restore natural resources. She has autism, which she says at one time limited her but now is her superpower. This video she produced states that we must protect and preserve nature and stop dependence on fossil fuels because we are in a climate crisis.
Explore the Issues with Your Local Watershed
The story of Flint could happen in any city. Flint River is a healthy ecosystem, part of a watershed with healthy biomes, including diverse plants and animals. When the Flint water crisis brought lead-contaminated water into homes, it was because the city shifted from lake water to river water without changing the way they treated the water. River water stripped protective coatings off water pipes and released lead into the water. This showed a careless lack of oversight and planning. Many people had the misconception that the river itself was toxic.
What should have happened in city and state government before they decided to switch from lake to river water?
How can citizens and scientists make this information available so oversight like this doesn't happen in other communities?
In your community, youth may research this issue and local watershed and water systems and advocate for wise action regarding their own community's water.
Key Questions for Learning and Service: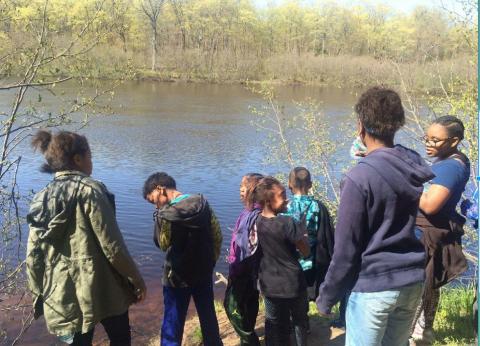 What are the bodies of water, parks, and natural resources in your community?
How do you use your local natural resources? What does it take to keep them healthy? Whose responsibility is it to care for them?
Communities work because of interconnectedness. What does it mean to be a global environmental community?
How healthy are our land, air, and water? What contaminants and practices pose risks to environmental health?
How can government, business, and nonprofits work together to sustain the environment and shared resources?
How does responding to a disaster spark discussions about water and land management and lead to research and action?
Definitions:
Climate Change looks like large shifts in weather patterns. While there have been periods of natural climate change in the past, humans have made a significnt global change because of fossil fuels, deforestation, and some farming practices.
Environmental Stewardship​ is the careful and responsible management of the natural environment, which is in our care.
Environmental Justice is the fair treatment and meaningful involvement of all people regardless of race, color, national origin, or income, with respect to the development, implementation, and enforcement of environmental laws, regulations, and policies. It will be achieved when everyone enjoys 1) the same degree of protection from environmental and health hazards, and 2) equal access to the decision-making process to have a healthy environment in which to live, learn, and work.
Sustainability means taking care of the land and water, especially in regards to farming, in a way that it stays healthy for the long term.
Watershed is the area of land that drains to a specific body of water, such as a lake or river. Watershed management is assuring healthy use of the land in the area in order to improving the quality of water and other natural resources.
Learn from Experts in Your Community
Connect with people and organizations in your community to learn about the resources in your community, develop relationships, learn about potential careers, and gain communication and problem-solving skills. Find partners in your community who will work with youth. Engage youth in investigating the issue and calling the partners. Connecting with a community resource makes the project more meaningful and impactful.
Local recycle center
Water treatment plant
Bioneers
Nature Center
Environmental Action Council
Watershed Council
Parks and Recreation department of your county
Local or National parks
Lakes and rivers
Wetlands
Beaches
Water treatment plant
The Sierra Club
The Nature Conservancy
Lesson Plans
These lesson plans provide background and discussions for understanding different environmental issues and our responsibility.
The following lesson plans were written to explore the importance of clean water, the water cycle, and what happens when water systems are contaminated.
Protecting Water from Contamination
Literature Guides
The Lorax guide provides before, during, and after-reading discussion questions. This classic children's tale is a timeless call to protect and preserve our natural resources. The Lorax explores the interconnected world of nature and the possible damage if we don't act responsibly. This book demonstrates the all-too-real consequences for careless consumption and greed. The reader is challenged to develop empathy for the animals and plants who share our planet and stand up for the voiceless.
Seeds of Change
literature guide provides discussion questions for this true story of Nobel Peace Prize winner Wangari Mathaai is an inspiring tale of environmental activism and the power each one of us has to help protect our world.
---
​Project Ideas

Service action may be direct, indirect, advocacy, research, or a combination of these.
River and Environment Health
Take a survey of the health of your ecosystem by sampling critters and plants. Research and gather data on life in the local rivers, health of the surrounding area, quality and quantity of animals and plant life. Share this information with environmental organizations or participate in their count days.
Take water samples of a local river at various points on the river. Find out how to treat pollution.

Learn scientific testing methods of water and soil; analyze and share data collected with other yourh and leaders in the watershed.
Lead Exposure
Research the sources and effects of lead on children and adults. Find out how to get rid of lead in homes. Research how diet can reduce the effects of lead. Advocate for meals high in iron and calcium to combat lead exposure.
Test lead levels in school drinking fountains.

Ask the city for a report on lead levels for families or seniors in your community. Share the information with affected families.
Water Bottles
Simple Safe Service Guide: Reduce Plastics
Investigate Community Needs
Write, produce, and share an informational documentary about an environmental crisis and suggest action communities can take locally.
What does your community need related to water quality? Invite experts, take surveys, and read about how the community treats its water.
Find out who has access to clean water. Take action to raise awareness. Start a recycling or water filter program.
Educate the community through social media and fact sheets about an environmental issue and its impact.
Interview the county water commission about storm drains. Volunteer to stencil the message or share information about "no dumping; drains to river" on storm drains or participate in the community rain barrel program.
Investigate and share information about permeable and nonporous surfaces and how they impact runoff.
Find out what volunteer events are happening in your community, and join in. Invite experts from the community to present at your school. Some of these organizations are identified in Community Resources below.
Research "rooftop gardens" and where they are needed.
Build a bird habitat or house to attract a specific bird species that is threatened.
Perform an energy audit of schools or homes.
Set up a recycle station where there isn't one. Find out the community recycling practices and requirements.
Informed Citizenship
Teach others about the importance of voting and staying informed about local and global issues.
Research the voting records of your representatives to the state and nation. Share your data with your community. Write to your representatives to let them know you would like them to vote on environmental issues that are fair and sustainable
School Environmental Club
Join and support your school's "green team." Organize projects to make students aware of healthy habits and actions they can take that sustain the environment. If an environmental club doesn't exist, start one. Organizations listed in Community Resources below can be of help.
Beautify Public Areas
Give new life and purpose to a neglected area. Plant native plants, trees, bushes, or flowers. Weed out invasive species and beautify by weeding, pruning, and raking. Enlist the ownership of youth, families, and the community with special clean-up days organized by youth.
Take ownership of doing research about what is native and invasive in the area. Contact organizations to interview the experts and find out what can be done and how to get permission to do the work. If there is no funding for new plants, ask for donations.
Plastic Bags
Ask people to make a commitment to use fewer plastice bags. Research the problem of plastics and investigate solutions. Try our Tote Challenge lesson and activity to make reusable bags from old T-shirts.
---
Tools for Planning a Service-Learning Project
This resource provides guidance and questions for each step of the process.
GUIDE TO PLANNING SERVICE-LEARNING
This chart helps youth prepare for who does what in the service-learning process.
CHART FOR PLANNING SERVICE-LEARNING
---
Quotes
"By polluting the oceans, not mitigating CO2 emissions and destroying our biodiversity, we are killing our planet. Let us face it, there is no planet B." - Emmanuel Macron, President of France
"Climate change knows no borders. It will not stop before the Pacific Islands and the whole of the international community here has to shoulder a responsibility to bring about sustainable development." - Angela Merkel, Chancellor of Germany
"Climate change is the single greatest threat to a sustainable future but, at the same time, addressing the climate challenge presents a golden opportunity to promote prosperity, security and a brighter future for all." - Ban Ki-Moon, Former Secretary-General of UN
"What you do makes a difference, and you have to decide what kind of difference you want to make." - Dr Jane Goodall, Scientist & Activist
"Adults keep saying we owe it to the young people, to give them hope, but I don't want your hope. I don't want you to be hopeful. I want you to panic. I want you to feel the fear I feel every day. I want you to act. I want you to act as you would in a crisis. I want you to act as if the house is on fire, because it is." - Greta Thunberg, 17 year-old Swedish Activist
Other Resources for Investigation and Communication