Refugees in Our Community Service-Learning Toolkit
Keywords:
Community
Diversity
Refugee
Refugees
Respect
Service
Service-Learning
YGFGservice
Youth Advisory Committee
Service-Learning Project Ideas Related to Refugees: 
 This list of service project ideas and resources is designed to spark ideas for actions related to understanding and welcoming refugees.
Lesson Plans
The best service-learning projects are related to classroom instruction, involve youth voice and choice, address a researched need, and work with local resources.
Teach Learning to Give lessons to connect service with academic subjects and build philanthropy knowledge and skills. These lesson plans teach about the issues, why we should care and act, and the skills and knowledge of social good, such as writing, advocacy, history, fundraising, and careers. 
Types of Service Projects:
Service action may be direct, indirect, advocacy, research, or a combination of these.
Examples:

Project Ideas
Welcome to Our School!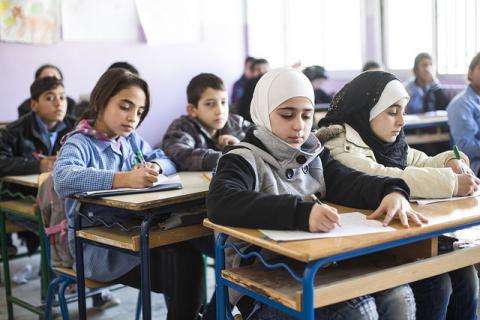 Create a Welcoming Kit for refugees coming to your school or neighborhood. This can include a backpack of important school supplies for your class that your new classmate will need to complete his or her schoolwork. It can include a book or video about the school or community that classmates have made to introduce and welcome refugee students into the school and that they can take home to share with their family. If the class will have a buddy system, brainstorm and compile roles and responsibilities of the buddy so that each buddy will know how to perform his or her role well. (direct service) This one-session Lesson Plan is a good introduction to this project. 
Photo Credit: Sarah: I cannot go to school by DFID UK is licensed under CC by 4.0
---
Organize a Drive
Organize a drive of items which refugee families may need. This could include new kitchen items, sheets, and bedding; bikes and bike helmets for children and adults; or non-perishable, culturally-sensitive food staples such as rice. Contact a local refugee resettlement agency or service agency to see which items are needed. (indirect service) Photo Credit: Kids' Bike Parade by Dianne Yee is licensed under CC by 4.0 
---
Speak Out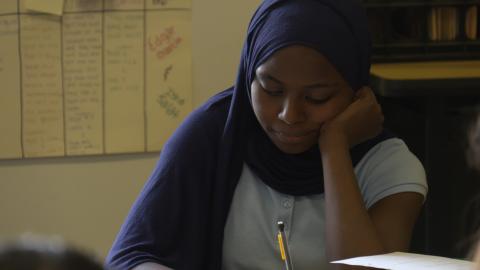 Write letters to your local newspaper or elected official about what you have learned about refugees coming to America and why it is important to welcome and help them. (advocacy) 
---
Create a PSA
Create a PSA including information about refugees, what causes a person to become a refugee, needs that they may have, why it is important to help them, and ways to welcome them into our communities. See if your school will play this on the morning announcements, or if it can be shared with the community in some other way. (research & advocacy)
---
More Ideas:
Make repairs or do yardwork for a refugee family arriving in your community.
Attend a welcome event hosted by a local refugee resettlement agency.
If there is a refugee student in your class or school, make sure he or she gets a special invitation to school events. Welcome him or her personally!
Attend a cultural event at a local cultural center or house of worship. Learn about the culture and traditions of refugees who are arriving in America.
Participate in a Walk-a-Thon or other fundraiser to raise awareness and money for an agency which supports refugees in America.
Participate in a Walk-a-Thon (such as World Vision's 6K for water) for an organization which helps people in countries from which a lot of refugees come.
Research a country from which a lot of refugees come. What is life like there?
Research a refugee group which came to America. What brought them? How have they contributed to America?
Research a refugee who has changed history.
Watch documentaries about refugees from Syria or other nations. Children of Syria and Exodus from PBS are good choices.
---
Planning a Service-Learning Project
This resource provides guidance and questions for each step of the process.
Guide to Planning Service-Learning
This chart helps youth prepare for who does what in the service-learning process.
Chart for Planning Service-Learning
---
Tips for Teachers Who Have Students Who Are Refugees
TeachingRefugees.com  Tips for Teaching Refugees with Limited Formal Schooling: This is a collection of ideas and advice from teachers who have experience with students of refugee backgrounds.
ColorInColorado.org  What You Can Do to Support Refugee Students: Helpful facts, steps, and a video to guide teachers of an ELL classroom. 
---
Potential Community Partners and Resources for Investigation and Service
This is a list of online resources that may expand the learning around the issue area and involve the students in identifying needs and solutions.
Refugee resettlement agency. Works to protect the rights and dignity of people in forced or voluntary migration worldwide. Source of information for advocacy and research, as well as community partnership opportunity in 96 cities in America.
Refugee resettlement agency offering service opportunities for helping, advocating for, and working with newly arrived refugees.
Faith based organization that focuses on refugee services, disaster response, and economic development to help displaced and otherwise vulnerable people internationally. They have many ways for young people to get involved, including tools for advocacy, education, direct service and fundraising.
The United Nations Refugee Agency offers statistics and infographics on the scale of the refugee problem in the world. A good source for research and information.
This organization is dedicated to ensuring that children around the globe have a fair chance for success through programs dedicated to a variety of services for refugee and other children. A great resource for research.
---
Local Resources for Investigation and Service
A nonprofit in southeast Michigan dedicated to helping women, children, and refugees meet basic needs of food, clothing, and shelter, and to move forward through vocational programs and English classes. May be source of service opportunities at Hope for Humanity Center in Inkster, Michigan.
​Michigan-based organization providing care and resettlement assistance for refugees. Source of service opportunities and stories about refugees' lives in Michigan.
Museum dedicated to Arab American culture in the United States. Includes permanent exhibits about the history of Arab immigration (including waves refugees from various Arab nations), contributions of Arab Americans, and adjustment to life in the United States. Field trips for students and cultural competency presentations for adults are available.
Founded in 2015 by local philanthropists, SARN's mission is to provide humanitarian and economic support for refugees as they reach self-sufficiency in Michigan. A good source for service opportunities.
Opened in 2017, this museum covers the culture and history of Chaldeans, who are Iraqi Christians, many of whom have settled in southeast Michigan as refugees, both historically and currently. Open for field trips.