Service-Learning Toolkit Related to the Arts
Keywords:
Art from the Heart
Service Project
Service Learning
Service Plan
Visual Arts
Visual Arts: Create/Communicate
YGFGservice
Youth Advisory Committee
Service-Learning Project Ideas Related to the Arts: This list of service project ideas and resources are designed to spark ideas for actions related to creating and enjoying the arts.
Lesson Plans
The best service-learning projects are related to academic instruction, involve youth voice and choice, address a researched need, and work with local resources.
Teach Learning to Give lessons to connect service with academic subjects and build philanthropy knowledge and skills. These lesson plans teach about the issues, why we should care and act, and the skills and knowledge of social good, such as writing, advocacy, history, fundraising, and careers.
Types of Service Projects
Service action may be direct, indirect, advocacy, research, or a combination of these.
Examples: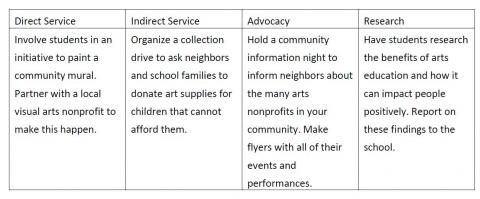 Project Ideas
Partner with arts organizations to do a fundraising event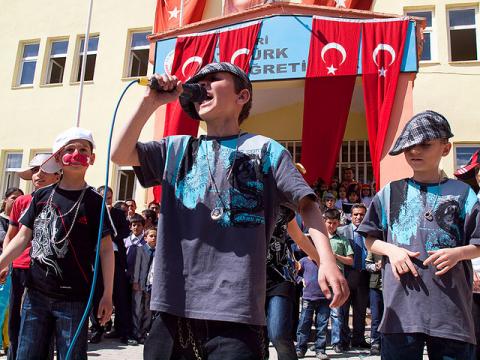 Have youth research what arts organizations are in your community. Contact these organizations to see if they would be interested in doing an event with youth to help them fundraise for the organization. Event ideas could include a performance, an art auction, a workshop or anything else. Photo Credit: Children's Day by Evgeni Zotov is licensed under CC by 4.0
---
Theatre and Playwriting
Take youth on a field trip to a nonprofit arts organization's play or musical performance. Ask them to write about their reaction to the performance and give them background information, if necessary. Have youth write their own plays and skits based on their lives or what they're learning in history or another subject. Perform the plays and skits for the school or the community.
---
Facilitate an arts drive
Unfortunately, when there are budget cuts, arts programming and funding is the first thing to go. Contact local schools that may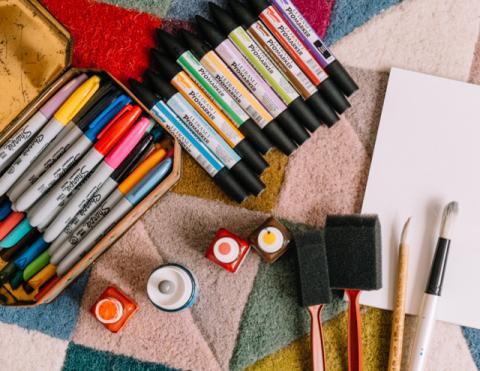 be facing challenges with their arts programming. Ask them what needs they have and start a drive for donations. Musical instruments, art supplies, sheet music, costumes and clothing, and other materials may be needed. Photo Credit: Art Supplies by Laura Redburn is licensed under CC by 4.0
---
Design artistic reusable bags
Have youth design and paint on blank canvas bags. They could use these bags as a fundraiser for a local arts nonprofit or to raise awareness about the arts community in your area.
---
More Ideas:
Paint a mural at the school or in the community.
Use recycled items to make an art piece representing sustainability.
Design and sell buttons related to the arts for fundraising and awareness.
Youth may partner with younger children to do art projects or music lessons.
Host a school or community wide art auction with student art and pieces by local artists.
Create a 'battle of the bands' event at school to give youth a chance to perform.
Attend a local dance performance.
Invite a local artist to come to your classroom for a discussion on the arts or a workshop.
Visit an art museum in your region. Discuss the importance of preserving and enjoying the arts.
Partner with the school's art teacher to do a project related to other subjects or social justice. Photo Credit: Recycled Trash by oomni is licensed under CC by 4.0

---

Planning a Service-Learning Project

This resource provides guidance and questions for each step of the process.

GUIDE TO PLANNING SERVICE-LEARNING

This chart helps youth prepare for who does what in the service-learning process.
---
Potential Community Partners
Find partners in your community who will work with youth on arts-related projects. Engage youth in investigating the issue and calling the partners. Connecting with a community resource makes the project more meaningful and impactful.
Art, music, band and drama teachers
Local artists
Dance companies
Orchestras or symphonies
Theatre companies
Local opera companies
Art museums
Local art galleries
Arts-based nonprofit organizations
Local libraries
Other Resources for Investigation and Communication
This is a list of resources that may expand the learning around the issue area and involve youth in identifying needs and solutions.
This company offers a free download that allows users to create audio files or podcasts. This could be especially useful for service projects involving music or for advestising an event.
Saatchi is an online, curated gallery for new and original visual art. This would be a great tool for inspiration and discussion of art.
This organization focuses on "restoring music programs in America's public schools" (Save the Music, 2013). They also are advocates for the importance of music in a child's education. They offer many ideas for service activities and ways to contribute to their mission.
This resource is a database for technology and visual classroom supports for K-12 students. Besides the main core content subjects, the Educational Technology Clearinghouse also has pages dedicated to dance, music, theatre, and visual arts education.
Create word clouds to visually express lots of ideas in a small space. Words that are used most display largest. Use this for creating arts projects or for raising awareness for arts-related issues.
---
Bibliography
Center Stage. "Teaching Playwriting in Schools" Centerstage.com, 2016. Web.
Dance Advantage. "Class Planning Part Two: Focusing on Skills and Concepts in Lesson Plans" Danceadvantage.net, 2009. Web.
Pianimation. "Symbol Search Worksheets" Pianimation.com, 2010. Web.
President and Fellows of Harvard College. "Artist Habits of Mind" Harvard.edu, 2003. Web.