Water Quality and Community Action Toolkit
Keywords:
Advocacy
Community
Pollution
Water
Water Crisis
YGFGservice
Youth Advisory Committee
This resource provides lesson plans, project ideas, and information about water quality and ways to learn and respond in your area.

Stories of water safety, community trust, leadership, and civic action provide opportunities for learning that fit any subject or grade level. Guide youth to learn and take action in response to what could happen in any community. 
Lesson Plans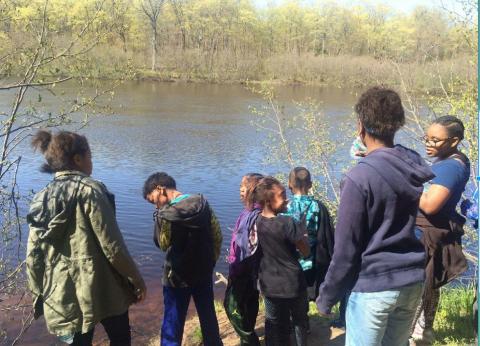 Communities work because of interconnectedness, and we are a global community connected around clean water. 
Lessons about water and watersheds: How healthy is our water?
Lessons about community, and what responsibility citizens and leaders have for shared resources
How government, business, and nonprofits work together to solve a crisis
The effects of water contaminants and lead on children? What are sources of lead?
Lessons about responding to a disaster can be a good entry point to spark discussions about water and lead to research and action.
---
​Project Ideas 
River and Environment Health
Take a survey of the health of your ecosystem by sampling critters and plants. Research and gather data on life in the local rivers, health of the surrounding area, quality and quantity of animals and plant life. Share this information with environmental organizations or participate in their count days. 
Take water samples of a local river at various points on the river. Find out how to treat pollution.

Learn scientific testing methods of water and soil; analyze and share data collected with other yourh and leaders in the watershed.
Lead Exposure
Research the sources and effects of lead on children and adults. Find out how to get rid of lead in homes. Research how diet can reduce the effects of lead. Advocate for meals high in iron and calcium to combat lead exposure. 
Test lead levels in school drinking fountains.

Ask the city for a report on lead levels for families or seniors in your community. Share the information with affected families. 
Photo credit: Teen Helping Child at Drinking Fountain by Tsayrate is licensed under CC BY 2.0
Water Bottles
Flint youth and families used millions of water bottles generously donated. What are the impacts on the community of using millions of water bottles? Are there other donations that are meaningful? How can we help them manage the recycling or reusing of bottles? What are some tips for cooking and cleaning and using the water bottles in class without waste or distraction to class time?
Investigate Community Needs
Art and Advocacy: Write, produce, and share an informational documentary about the Flint water crisis and suggest action communities can take locally.
Investigate Community Needs: What does your community need related to water quality? Invite experts, take surveys, and read about how the community treats its water. 
Environmental Justice and Sustainability: Find out who has access to clean water. Take action to raise awareness. Start a recycling or water filter program. 
Water Pollution
Educate the community through social media and flyers about nonpoint-source pollution (such as runoff from farm fields).
Interview the county water commission about storm drains. Volunteer to stencil the message or share information about "no dumping; drains to river" on storm drains. 
Participate in the community rain barrel program.
Educate community members about what people can do at home to reduce pollution.
Investigate and share information about permeable and nonporous surfaces and how they impact runoff.
Informed Citizenship
Teach others about the importance of voting and staying informed about local and global issues.
Research the voting records of your representatives to the state and nation. Share your data with your community. Write to your representatives to let them know you would like them to vote on environmental issues that are fair and sustainable
Please use the comment section below to add to our list of  ways to take action for Flint or your local river or water issues.
---
Planning a Service-Learning Project
This resource provides guidance and questions for each step of the process.
GUIDE TO PLANNING SERVICE-LEARNING
This chart helps youth prepare for who does what in the service-learning process.
CHART FOR PLANNING SERVICE-LEARNING
---
Other Resources for Investigation and Communication
Potential Community Partners
Find partners in your community who will work with youth. Engage youth in investigating the issue and calling the partners. Connecting with a community resource makes the project more meaningful and impactful.
Nature Center
Environmental Action Council
Watershed Council
Parks and Recreation department of your county
Local or National parks
Lakes and rivers
Wetlands
Beaches
Water treatment plant
The Sierra Club
The Nature Conservancy 
Research Your Local Watershed
The Flint River is a healthy ecosystem, part of a watershed with healthy biomes, including diverse plants and animals. When the Flint water crisis brought lead-contaminated water into homes, it was because the city shifted from lake water to river water without changing the way they treated the water. River water stripped protective coatings off water pipes and released lead into the water. This showed a careless lack of oversight and planning. Many people had the misconception that the river itself was toxic.
What should have happened in city and state government before they decided to switch from lake to river water?
How can citizens and scientists make this information available so oversight like this doesn't happen in other communities? 
In your community, youth may research this issue and local watershed and water systems and advocate for wise action regarding their own community's water.