Service-Learning Toolkit Related to Health
Keywords:
Health and Disease
Healthy Community
Service Project
Service Learning
Service Plan
Service-Learning Project Ideas Related to Health: This list of service project ideas and resources are designed to spark ideas for actions related to making healthy choices, disease research, and mental health advocacy.
Lesson Plans
The best service-learning projects are related to classroom instruction, involve student voice and choice, address a researched need, and work with local resources.
Teach Learning to Give lessons to connect service with academic subjects and build philanthropy knowledge and skills. These lesson plans teach about the issues, why we should care and act, and the skills and knowledge of social good, such as writing, advocacy, history, fundraising, and careers.
Types of Service Projects:
Student action may be direct, indirect, advocacy, research, or a combination of these.
Examples:

Project Ideas
Bicycle event
Set up a bicycle obstacle course and teach young children about bicycle safety. Solicit donations of bike helmets, or funds to purchase them, to distribute at the event. Photo Credit: Obstacle Course by Herald Post is licensed under CC by 4.0
---
Team sports
Organize a sports team to promote fitness, team-building skills and sportsmanship. An easy and fun game for students is kickball. Even students that aren't incredibly athletic can do well! Make sure that you pick the teams ahead of time so that no one feels left out.
---
Special Olympics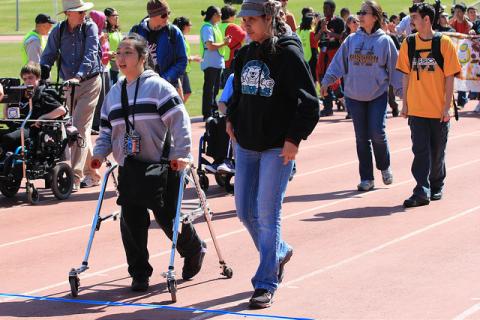 Get involved with Special Olympics to advocate for fair and respectful treatment of people with intellectual disabilities. There are many different leagues and events throughout the year, so your students would have many volunteer options. Photo Credit: Special Olympics 044 by Jerome Paz by CC by 4.0
---
Diminishing stigma
Reduce the stigma of mental illness by raising awareness about the types of mental illnesses people have and how it affects their lives. This can lead to acceptance by the community and more support for people who need it.
---
More Ideas:
Organize and assist at a blood drive.
Repair bicycles for the neighborhood children. Help find used bikes for kids who don't have one.
Teach bike safety to younger students through student-created skits, games, and stories.
Teach a game to younger students in an after-school program.
Help younger students with problem solving skills.
Set up a booth and have people make cards for hospital patients.
Make a simple craft with an inspirational quote for a group that needs support.
Show your students clips or documentaries about people with physical or mental health issues overcoming adversity.
Organize a game day for seniors in your community. Customize the games and activities for their skillset.
Create pamphlets and posters about healthy living practices. Photo Credit: Vanier College Health Promotion Fair by Vanier College is licensed under CC by 4.0

---

Potential Community Partners
Find partners in your community who will work with your students on health-related projects. Engage the students in investigating the issue and calling the partners. Connecting with a community resource makes the project more meaningful and impactful.
Local parks & recreation department
Schools
The Red Cross
Churches
Community centers
Local sports leagues
YMCA
Local coaches or former athletes
Special Olympics
Other Resources for Investigation and Communication
This is a list of resources that may expand the learning around the issue area and involve the students in identifying needs and solutions.
Go to generationOn.org for a full menu of project plans related to health and wellness. See a list of great projects for Kids and for Teens.
Action for Healthy Kids is dedicated to increasing kid's activity and healthiness. They have resources to help schools, families and communities foster healthy eating and exercise. Also, there is a part of the website that's dedicated solely to health in your state.
This organization focuses on ending the stigma of mental illness. They offer many supports for mental health, educational resources, and ways to teach your students about this subject.
The link above has a long list of foods that are especially beneficial to growing children. This could be a great resource to show your students so they know what foods are the healthiest to eat, also this could even be used to find recipes and make healthy food in the classroom.
There are many ideas for how to adapt traditional games and physical activities for students with disabilities. These games could also be modified and used for seniors with different levels of mobility and skills.
The link above provides dozens of ideas for games to get your students active. There are relay-based games, physical challenges, sports games and much more.
The Special Olympics website has resources on how to get involved, stories and videos from the athletes, and health information. This website would be a great tool to use to learn more about individuals with different abilities.
Education and awareness of donations of organs and tissues - another form of giving
---
Bibliography
Have Fun Teaching. "Health and Nutrition Worksheets" havefunteaching.com, n.d.. Web.
Kids Food Journal. "Printable Kid's Exercise & Food Journal" kidsfoodjournal.com, 2012. Web.
The Canadian Association for Health, Physical Education, Recreation and Dance. "Fun Fitness Activities for Kids" phecanada,ca, n.d.. Web.