Veterans and Community Helpers Service-Learning Toolkit
Keywords:
Community
Service Project
Service Learning
Service Plan
Veteran's Day
YGFGservice
Youth Advisory Committee
Service-Learning Project Ideas Related to Community Helpers: This list of service project ideas and resources are designed to spark ideas for actions related to recognizing the contributions of veterans and people who serve their community in a variety of ways.
Lesson Plans
The best service-learning projects are related to classroom instruction, involve youth voice and choice, address a researched need, and work with local resources.
Teach Learning to Give lessons to connect service with academic subjects and build philanthropy knowledge and skills. These lesson plans teach about the issues, why we should care and act, and the skills and knowledge of social good, such as writing, advocacy, history, fundraising, and careers.
Lesson Plans to Recognize People Who Serve
Types of Service Projects
Service action may be direct, indirect, advocacy, research, or a combination of these.
Examples:

Project Ideas
Supporting veterans
Collect personal products to give to retired, injured or ill veterans at the Veterans' Hospital or Home. Schedule a visit to bring in the donations and spend time listening to their stories. Share talents in a show to entertain the veterans. Photo Credit: Jeri and Hayden greet Mr. William Clark by freddthompson is licensed under CC by 4.0
---
Community Heroes
Research the acts of local community heroes, people who have taken generous personal action for the sake of the community. Write their stories and publish in a book of local heroes to present to the local library or school media center. Create a Wall of Heroes with the information.
---
Host a breakfast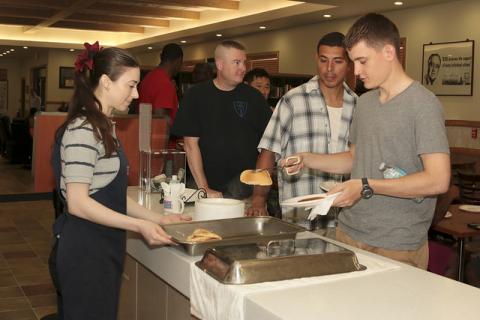 Host a breakfast to benefit local heroes, veterans or military members. The proceeds raised would go to organizations that directly benefit these individuals. Have youth cook the breakfast and talk with the attendees. Photo Credit: Camp Casey USO Pancake Breakfast by US Army Garrison Red Cloud - Casey is licensed under CC by 4.0
---
Personalized notes
Write kind notes to people who provide a regular service. Be specific and respectful in the letters and let the people know that they are appreciated for what they do. This may include a crossing guard, a school volunteer, a letter carrier, the receptionist at the orthodontist office, a choir or youth leader, or the principal at your school.
---
More Ideas:
Prepare care packages or make greeting cards for soldiers.
Investigate the skills and training required to have a career as different community helpers.
Create cards or banners, make a lollipop bouquet, or make and deliver snacks for local firefighters, police, and first responders to thank them for their service.
Prepare care packages or make greeting cards for soldiers.
Set up a booth at a local shopping center and have people make cards for military personnel.
Invite community helpers or military personnel to have a discussion for your class. Encourage youth to ask them questions.
Have youth participate in a military or police style physical training exercise. Ask them about their expectations and their reactions.
Involve youth as conversation partners for aging veterans at a local hospital or center.
Plan a game night or activities day for community members as a way to raise funds for veterans. Photo Credit: 20120723-A-JW984-230 by 316th ESC is licensed under CC by 4.0

---

Planning a Service-Learning Project

This resource provides guidance and questions for each step of the process.

GUIDE TO PLANNING SERVICE-LEARNING

This chart helps youth prepare for who does what in the service-learning process.
---
Potential Community Partners
​​Find partners in your community who will work with youth on veteran and community helpers projects. Engage youth in investigating the issue and calling the partners. Connecting with a community resource makes the project more meaningful and impactful.
Veterans Affairs office
Veterans of Foreign Wars (VFW)
American Legion
Senior care facilities or centers
Local police stations
Fire stations
Local military personnel
ROTC programs
Other Resources for Investigation and Communication
This is a list of resources that may expand the learning around the issue area and involve youth in identifying needs and solutions.
Go to generationOn.org for a full menu of project plans related to veterans and the military. See a list of great projects for Kids and for Teens.
This link provides a lot of background information about all of the branches of the US military. This would be a useful resource to show youth so that they can understand the similarities and differences of the armed forces.
Fact Monster- Jobs Involving Helping People
This website has pages that detail different jobs that help the community members. These descriptions would be particularly helpful for elementary students learning about community helpers.
The VFW's website has information about the organization, their initiatives and how to participate. There is a specific section about community service and this would be a great resource to get youth involved.
This organization works to assist injured service members. They have programming and events to further their mission and involve the community. Wounded Warrior Project would be a good resource for youth to research.
On this video Officer Jack Richter tells viewers about the expectations and requirements for becoming a police officer. He provides examples that will help youth better understand the career.
---
Bibliography
Homeschool Journeys. "Veterans Day Printables" homeschooljourneys.com, 2012. Web.
Teacher Created Materials & Education World. "Veterans Day" educationworld.com, 2014. Web.
Webquest Military & West Hartford Public Schools. "Explore the Military" whps.org, 2015. Web.