Justice-Related Service-Learning Toolkit
Keywords:
Civil Rights
Fairness
Justice
Service Project
Service Learning
Service Plan
Social Justice
Lesson Plans and Service-Learning Project Ideas Related to Justice, Civil Rights and Advocacy: This step-by-step guide helps teachers to teach background of justice and advocacy, provides local and online community resources, and sparks ideas for actions related to advocacy, justice, and civil rights.
Photo credit above: Mar 02 (161) by Jessica Lucia is licensed under CC BY 2.0
The best service-learning projects are related to classroom instruction, involve student voice and choice, address a researched need, and work with local resources.
Photo Credit:  Protest against France's immigration laws by looking4poetry is licensed under CC by 2.0
Lesson Plans
Teach Learning to Give lessons to connect service with academic subjects, provide background on issues, and build philanthropy knowledge and skills. 
Click the green button to find additional justice-related lesson plans: modify the search by your grade span and subject area:
Background Papers
Introduction to Philanthropy and Skill-Building
Four Short Videos
Lessons and Activities
Introduction to Philanthropy Lessons at Each Grade Level
Not sure which issue to pursue? Try the Blue Sky Envisioning Activity
Need to indentify community assets? Try building a Community Map. Locate local nonprofits via GuideStar.org 
Teach Advocacy Skills
| | | | |
| --- | --- | --- | --- |
| Grade Level | Lesson Title | Link | Description |
| Any | History in Action | | Includes 4-minute video of various movements |
| Grades 9-12 | Advocacy and Activism Introduction | | Learn from Martin Luther King, Jr. About the tools of advocacy |
| Middle/High School | Characteristics of Good Advocates | | Describes 8 characteristics |
|   | Determining Advocacy Style | | No right/wrong answers; helps to identify personal advocacy style; pair with "Characteristics" handout |
|   | Spoken Word Poetry for Justice | | Mini-course for teachers: examples, tips to teach Spoken Word poetry |
| Middle School | Telling Our Stories of Giving | | Unit of 3 lessons; students learn about and practice Newspaper writing; personal narrative and persuasive writing |
| Grades 9-12 | Writers as Activists | | Look at writers Rachel Carson, Mary Terell, and Alice Walker; 4th lesson is a writing exercise for writing to newspaper or lawmaker.  If time-limited, recommend lessons 3 and 4 |
And bring community awareness to your students' work by using this step-by-step media and timeline guide.
Types of Service Projects
Research local hot issues and contact nonprofits to determine needs. Student action may be direct, indirect, advocacy, research, or a combination of these. Examples:

Project Ideas
Host a civil rights forum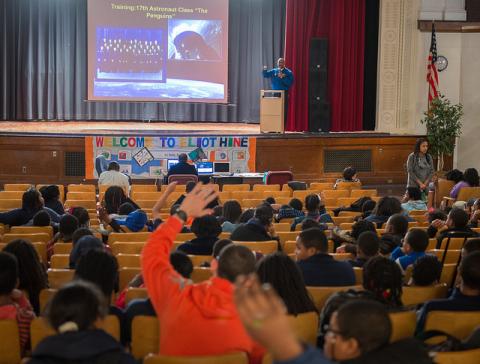 Coordinate with the school administration to host a civil rights forum or discussion. Have students research the history and current climate of civil rights in their community. Invite students, teachers, community members and families to be a part of the forum. The goals should be to increase dialogue around the issues and to learn from each other. Photo Credit: Melvin at Eliot Hine Middle School by NASA HQ Photo by CC by 4.0 
---
Partner with local advocates and activists
Have your students research local civil rights advocates and activists. Invite them to your classroom for a discussion around justice and civil rights. Ask them how your students can support their efforts and work on a campaign, project or rally together!
---
Promote tolerance and raise awareness
Investigate the civil rights issues of today, such as LGBT rights or mental illness, and create a campaign to raise awareness and promote tolerance. Look at civil rights models from the past and current media to learn about effective communication and persuasion techniques. Photo Credit: mark_carson_protest_DSC_0131 by Michael Fleshman is licensed under CC by 4.0
---
I have a dream...
Show your students videos and transcripts of Dr. Martin Luther King Jr.'s I Have A Dream speech. Have a discussion about the message and importance of this speech. Ask your students to write their own I Have A Dream speeches that are inspired by the original text. Have them share their speeches in front of the school or community. 
---
More Ideas:
Create PSA videos for civil rights issues. Show them at school or on local tv stations. 

Recreate courtroom scenes from famous cases on justice issues. 

Have your students create a civil rights or LGBTQ alliance student group at school. 

Write and perform skits that are based on justice, advocacy and civil rights issues. 

Interview civil rights and LGBTQ leaders in the community. Have them tell their stories to students and how students can get involved. 

Research and recreate famous speeches by leaders and advocates for justice such as Harvey Milk, Dr. Martin Luther King Jr., Temple Grandin and others. 

Read books to your students about Ruby Bridges, Rosa Parks, and other leaders of justice. 

Students could create a survey for the school or community on their opinions of the most pressing civil rights issues in the community. Compare, contrast and present the findings. 

Advocate for fairness and justice by writing a letter, calling or emailing a public official, or speaking at a public meeting. Photo Credit: Civil Rights Tour March 2008- Montgomery, AL by Greg Hoke is licensed under CC by 4.0 
---
National Civil Rights Organizations with Good Web Resources
The Leadership Conference on Civil and Human Rights is a coalition of 200+ organizations. The complete list can be found @ https://civilrights.org/about-us/coalition-members-leadership-conference-civil-human-rights/   Find links to the following member organizations well known for advocacy in their respective areas:
AARP [age discrimination]

American Association of People with Disabilities 

Asian Americans Advancing Justice 

American-Arab Anti-Discrimination Committee

Human Rights Campaign [LGBTQ]

American Federation of Labor and Congress of Industrial Organizations (worker rights)

League of Women Voters of The United States (voting rights)

National Association for the Advancement of Colored People 

National Congress of American Indians 

National Women's Law Center 

UnidosUS (formerly National Council of La Raza—Latino rights)
Local Organizations
Many national organizations have state-level affiliates; some of the more well-established local civil rights groups include: